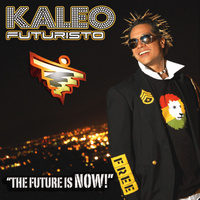 Kaleo stands for "The Voice, The Music and The Song" in the Hawaiian language.   This futuristic kat is bringin' all three elements to this record and then some.   Futuristo's unique brand of rock/hip-hop/pop appeals to both a national and international audience.   The Future Is Now not just for Kaleo Futuristo, but for the whole world as well so please be advised!
Hailing from Pasadena, California, Kaleo offers up a fun-in-the-sun attitude on the new album.   The record features: fun/party energy, icy-cool flows, minty-fresh deliveries, bustin' out/body-movin'/shimmy-shakin' grooves and hot-azz, funky beats.   Don't be fooled though because it's not all fun and games for Kaleo as he touches on some very important topics.   On the song, "Young Ones", a child in foster care winds up committing suicide and the track, "Suzie Q", talks about a 14-year-old girl who is pregnant.   "Suzie Q" gets creative by allowing the listener to make the choice of either having the baby or resort to abortion–powerful stuff!   On the joint, "Save the World", Futuristo stresses the future is now and we, as ONE people, have to act fast before it's too late.
Kaleo mixes the good, the bad and the ugly all into one tight package.   The ending result is a Party-it-Up Flavor gelled with serious/ongoing issues that we are faced with each and every day.   Whether it be through the news or real life experiences, KF has something for EVERYONE on this record.  
I have to mention the version of Phil Collins' classic hit, "In The Air Tonight", which is personally one of my favorite songs.   I never would have pictured a rap to this, but these days you never know.   I have to say though, straight from the heart, that this cover did freakin' work man!   Kaleo's take on the hit song is so very fresh 'n cool and as a matter of fact met approval by the man himself.   Keeping it relevant while keeping the original charm was the whole purpose behind "Air Of The Night" and I have to say mission accomplished!
Kaleo's smooth swag approach on the record is evident on both the inside and outside.   Starting with the wild & zany spiky dew to the catchy threads/accessories–I see one hell of a marketing project in the works.   Can we get some Kaleo Futuristo Bobble Heads, what do you think people???
For more on Kaleo Futuristo and his latest release, The Future Is Now, SKOPE out www.kaleofuturisto.com.  
By Jimmy Rae
[Rating: 4.5/5]