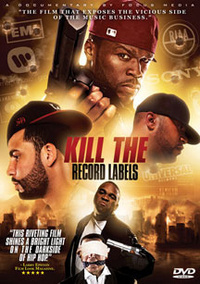 There is a war going and it is putting hip hop artists against the music industry. This newest DVD offering from MVD Visual explores a side of hip hop that most are not familiar with.
Directors Charles Rand & T. Thomas set out to expose & research various issues that are hurting the hip hop business. With interviews from artists such as 50 Cent, Lloyd Banks, Mike Jones, DJ Vlad, and more they get the point across.
The DVD opens up by going after the DJ Drama situation. DJ Drama had his offices in ATL stripped & searched for making & distributing mixtapes. The RIAA felt that he was stealing copyrighted material and profiting off it. The mixtape DJ's feel that as long as they get the music heard there should be no problem. Next the DVD goes into a segment about the evolution of the mixtape and how 50 Cent really set that trend on fire. They even show an artist dropping off new mixtapes to a record store in Boston.
Next the DVD explores the hip hop police. This segment is a real eye opener. I always figured the police would target hip hop artists & their entourage but not to this extent. You really see how the police are working together to bring down artists. Jim Jones & Bun B make great statements in regards to this.
The DVD closes on a high note. They get into how the Internet has changed the hip hop game. They look at what the Internet has done & what it will do. Overall this is a great DVD to watch. Hip hop is so much more than music and this DVD shows that in less than 90 minutes.
Shout out to B. Mack from Foundation Magazine who has various cameos in the DVD.
Review By: Mikey Frieds
[Rating: 4/5]