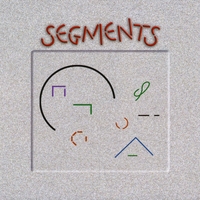 As Segments begins, you have no idea where you are. Perhaps you have been transplanted into a fantasy sequence of a movie? The first 30 seconds of the opening track, "Intro/Clouds," definitely inspire this mystical feeling, with a small orchestra playing a theme that segues into a beautiful piano/vibraphone duet.
The vibraphone is a pretty underused instrument, predominantly featured in the world of jazz. Hearing what Jay Hoggard can do with a vibraphone is definitely an aural treat. Joe Parillo's piano skills are not to be ignored. The combination of the stellar piano, skilled vibraphone, and Parillo's smooth swing arrangements make Segments a great addition to any jazz collection.
"Turn Around Back" stands out as a great piano feature, an enchanting melody with added embellishment that showcases Parillo's great talent. Most of the song features just the piano and a sparse rhythm section. At the halfway point the focus shifts to an outstanding vibraphone solo followed by a solo on the bass. And it comes full circle, ending with another small piano solo.
"Where Are You Now" once again opens with just Parillo on the keys, plucking a melody that is reminiscent of a mournful jazz standard from the Rat Pack era. It changes format to a sort of call-and-answer between the piano and vibraphone, the latter adding more hopefulness to the tune; perhaps the piano is calling out for the mysterious titular "you" and the vibraphone is answering from a distance, just out of reach.
The opening of "One Day in January" sounds like it could be the intro to a pop song, and not at all in a bad way. It could fit right into an album by Augustana or The Fray without a hitch. But the addition of Hoggard is really what transforms this song into a fitting complement to the rest of the album.
The Joe Parillo Trio offers a pretty lighthearted and fun album with Segments. It's a great choice for anyone who enjoys a good jazz pianist, and a must for anyone who appreciates the vibraphone.
Review By: Valerie Williams
[Rating: 4.5/5]