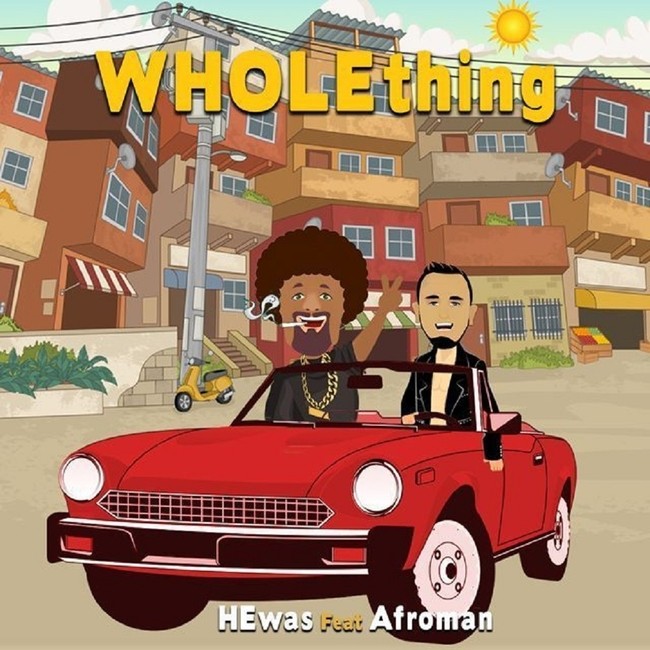 Could you cut up a piece of lovin', I'm not ready to feel the whole thing croons rising artist HEwas in a quaking voice with almost Nicolas Cage-like intensity. There's a sense he's vulnerable but self-aware, something of a willful caricature while still providing an earnestly sentimental undertone to the song's relaxed, hey man vibe. This is courtesy of old school synthesizers, a 90s West Coast R&B beat, and featured industry veteran Afroman's contrasting, harsher voice spitting bars about third wheels and sneaking around the wife. You're not my spouse, spend a couple nights this week at your house. I'm bluffing my face, I'm riding my ride, he deadpans – his form of rapping something in-between Oakland-tinged hyphy and standup monologuing. The song is one of the latest digital self-releases from a rising artist, HEwas having distributed it primarily by way of his Spotify page and Soundhound. As a result, 'Wholesomething' at once is somewhat unrefined and feeling akin to a work-in-progress while simultaneously having such attributes work in its favor. It feels stripped down, free of any contrivances, and its lyrical content and ruminations entirely pure.
FACEBOOK: https://www.facebook.com/kyle.davis.3386
The song also is personable because of the circumstances of its release. There isn't any marketing or PR team standing between the listener and the artist, thus creating a sense of camaraderie especially reinforced by Afroman's decidedly blunt, if even a little delightfully inappropriate proclamations on philandering and living life in the fast lane. "…She was a sexual plus – now she just a hangover begging so I felt like a king until she blew in the hole," he says, likely the words many an ex would say about their former significant other – minus, of course, the blowback one would receive in the current sociopolitical climate. It's this irreverence that also makes the single relatable, regardless of everything always being in good taste. In the distributive medium of self-release, such transgressions can be forgiven – perhaps even lauded as an example of the artist's individualistic 'flaws'. Add to that rap and West Coast R&B's long and abiding history of controversy and breaking boundaries and it only adds to the panache of the song's bars and lyrics.
Ultimately the song's foundation is ensured by HEwas's abiding sensitivity and Afroman's consistent, dry personality. The latter hasn't changed much since the release of his 2002 album Because I Got High, nominated for that year's Grammy for Best Rap Solo Performance. Having the latter attached to his new single likely will rise HEwas in terms of reputation and networking, but also ensures a thoroughly entertaining if somewhat profane experience. The two make a nice creative yin and yang, part of the fun being what they might cook up together next. Despite a few bumps, the song is bolstered by snappy dialogue, an effective mixture of the sentimental and the sacrilegious, and an overall sense of technical assurance unusually confident for a debut release.
Gwen Waggoner