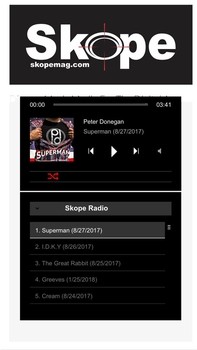 So we are back at it with an awesome radio promo. @skopemag Radio will play your single for 3 months. You will also get a link via kiwi6.com to track plays + downloads. All genres are invited, whenever you are on @skopemag.com you are reaching a global music loving audience!
Skope Radio is located on all pages of www.skopemag.com. All songs are set to rotate. Skope Radio is now a licensed member of ASCAP. Skope's license fee goes straight back to their members, so they can keep making the music that our audience love.
If you are interested simply hit Reply or email mfriedman@skopemagazine.com with:
Artist/Band
Song
MP3
Album Art
Email
The total for this campaign is: $10
To take advantage of this campaign click here:
$10 – https://www.paypal.com/cgi-bin/webscr?cmd=_s-xclick&hosted_button_id=VT68AWKKXM4NS
If you want to pay by another online vendor or by check send an email so we can assist.
Questions, comments, inquiries, compliments: Mike – mfriedman@skopemagazine.com