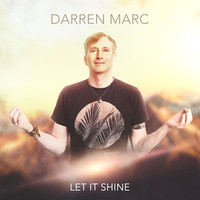 Writing as a career choice is quite the endeavor. Darren Marc and myself included have decided upon writing as part of our careers, as Darren would have it, he is a singer/songwriter, writer, as well as a NYS licensed real estate agent. On top of those he is also a celebrated reiki healer and kirtan artist. His vision being to inspire, awakening the joy, divine connection, wisdom, and love for all beings. Thus with that he has written and recorded his latest album "Let It Shine", that includes a track titled "Love and Grace".
"Love and Grace", takes the number 2 slot on the 11 track release, it not only being a second hitter, but one to include a guest spot from LB Brown whose voice has Darren calling it beautiful. Thus, this track is just that, a beautiful track to hear. For LB Brown not only includes her beautiful voice upon this track, but others as well, including such as tracks 1, 2, 4, 5, and 10. "Love and Grace", is the track in question though, for this track is just beautiful as said prior. It just brings out the music more so than it should.
Like take for instance, Darren Marc's craft, as a singer, for this track, let alone this album release, he as an artist, works his way upon this track, making it stand out. It stands out because it has creativity, edginess, and upbeat tones, with an easy listening exposure of experience. Both from Darren and LB Brown, working together on it. It plays off as being very enlightening and entertaining. Really embracing a tone unlike any other, because it speaks of a whole another culture, using a whole another language, it is hard to depict precisely which one, but it is there, as it becomes even more interesting.
Audio: https://www.darrenmarc.com/track/1282257/love-and-grace?feature_id=413995
Besides Darren and LB Brown playing their parts in this release and it's track spoken here, Chris Rosser has done some amazing production and multi-instrumentation work upon this track and rest of the album for that matter. While David Newman has played quite the role for Darren as his guidance and supporter. It just makes the track and the album more of a whole, bringing both as a full circle of works.
It's like as if the track off this album, plays to be something totally different, even though it is a part of this album. It has this attracting tone of melody going for it, that makes you want to listen in closely, hearing it over again and again, because of how unique and interesting it sounds. In terms of the sound itself, besides it being upbeat, it gives off a tone of similarity to that of Coldplay. A lot of their works having that awkward tone of melody that just works. That is how Darren Marc is creating his works with this particular track.
The rest of the tracks off the "Let It Shine", album work in this way, but not as well as "Love and Grace", does on its own. Pretty much this track is just one of those types of songs, you have to hear for yourself to experience it for yourself.
By Natalie Perez