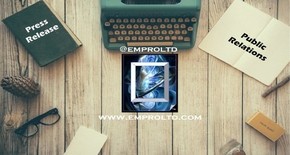 EMPro, Ltd is continually proven to be an industry leader for providing high quality marketing services to entrepreneurs in the arts and entertainment industry. Promoting your music cannot not be a part-time job. Artists that regularly market and promote their projects gain more fans, get higher booking deals and book more paid shows. Invest in yourself and your art. Remember this is the music business.
EMPro, Ltd is the best marketing agency for entertainment businesses and entrepreneurs. We are connected and have built a network to make sure your promotions get to the right audience, and gain awareness of industry decision-makers. Best thing about EMPro services is that our services are designed and priced for your budget.
Website: www.emproltd.com
Facebook: @emproltdbranding
Instagram: @emproltd
LinkedIn: https://www.linkedin.com/company/4790166
EMPro, Ltd Press Release gets the attention your music and next project deserves. EMPro, Ltd will draft and distribute press release. We have a network that will distribute your press release to over 50 outlets online. Music magazines, blogs, radio shows and more. Drive web traffic to your project and start getting press ASAP! They will also share your release on all their social media pages: that's 25,000-international music industry professional followers! Grab their attention today!
A 250 to 350-word press release about your music, business, or project, will include SEO and keywords and the following:
· Sent to over 200 major press outlets (Google News, Yahoo! Music, Variety, etc)
· Share project release in 10 Facebook groups (3.5 million followers)
· Share on 15 music blogs (1 million+ subscribers)
· Artist/Band or Company name · Project name (album/single or event)
· Contact person
· Website + Social Media links
· Release date
· Email address
The total for this campaign is: $25.00
Email: emproltd@yahoo.com / 312-636-3012
Expire: 11/1/2017