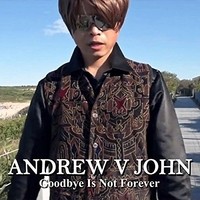 The latest EP release from rising newcomer Andrew V. John, Goodbye Is Not Forever, is a five song work that doesn't hesitate touching on a handful of approaches in a relatively brief space of time. The Asian born singer/songwriter has a distinctive look and is legally blind, but his vision impairments never compromises his abilities as a vocalist or writer. He favors a somewhat epic approach to writing pop music, but there's definitely a pronounced side to his talents that prefers indulging listeners with electronica propelled dance music. The production doesn't reflect any of the project's DIY origins in anyway and, instead, connects with the same impact as the best mainstream dance and pop music. John's lyrics don't really delve into new subject matter or attempt remaking the wheel, but they communicate with listeners without a shred of deception or varnish. There is no question, when wrapping up this album, that you've heard Andrew V. John fully revealed.
URL: http://www.andrewvjohn.com/
"Being Human" opens Goodbye Is Not Forever in quite a memorable fashion. Few of the songs on this EP run longer than four minutes and this is the shortest track. John and his collaborators conjure a vast soundscape for his lyrical narrative and John's voice controls every note of the composition with his calm confidence and deeply emotive phrasing. The title song continues displaying that same emotive phrasing, but the atmosphere is much more low key than before. This is as close as John comes to serving up a typical pop ballad but he avoids all of the kitschy turns many of the lower rung examples in this area often embrace. Instead, the title song glides and swoons to a satisfying conclusion. "This Is How I Feel" takes the EP in a different musical direction than heard before with its emphasis on strong danceable grooves and a less natural approach to the vocals that still comports much better with the EDM backing.
"Angel of My Life" is the EP's final peak of melodic, beautifully crafted pop, but instead of pursuing the near classical qualities heard on the first two songs, John takes on more atmospherics. There is certainly a lot of ghostly ambiance permeating the song, but it never obscures the gorgeously melodic center that sets the song apart from its surrounding company. The final track, "Follow Your Heart", is a remix of a recent single from John. The flair for EDM first apparent in "This Is How I Feel" blooms full flower on this finale. John's voice never sounds out of place in this environment and, if anything, the vocal melody somehow lends itself to this sort of treatment from the outset.
Goodbye Is Not Forever doesn't sink under the weight of its own sentiment or thanks to formula. Instead, John proves skillful at pouring old wine into new bottles and the sparkling vintage he's unveiled with this EP has a distinctively personal flavor while recalling familiar tastes. Andrew V. John's ascent to pop stardom continues to pick up speed.
9 out of 10 stars
I-TUNES: https://itunes.apple.com/us/album/goodbye-is-not-forever-ep/id1133897114
Joshua Stryde