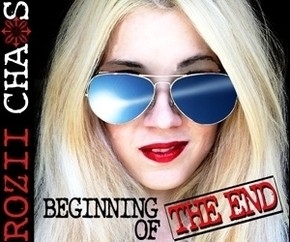 The Beginning Of The End is the latest single by British rock-n-roller Rozii Chaos and it's got a heck of back story.
Apparently Rozii and her band were nearly killed by a meteor as they were driving back from a performance in London, and this lifechanging experience inspired Rozii to write this monster hard rock masterpiece.
"Beginning Of The End"
http://youtu.be/05ub133ScsM
Think Joan Jett meets blonde bombshell and you might have an idea of what this song might sound like. Powerchords and a sing-along chorus drives the track, but it's the idea behind the song that's most intriguing. The idea that mankind has the technology to stop these meteors before they hit our planet,  yet we remain complacent and allow such disasters to not only run rampant, but that we're always moments away from extinction.
For more info about this threat visit www.spaceguarduk.com
Back to Ms. Chaos, her throwback to the classic hard rock sound is catching on throughout England and now making it's way across the pond and abroad. Rozii's black leather look and punk attitude will definitely turn some heads, but it's her music that reels them in.
The video for the single is quite cheeky, but clearly shows the band strutting their stuff on an airfield while destruction and impending doom are heading toward earth.
At just 20, Rozii Chaos is sure to be around for a long time and you'll be hearing alot more from this upcoming rockstar.
Make sure you check out "The Beginning Of The End" on YouTube and be sure to pick it up and show Rozii some love.
http://www.youtube.com/watch?v=05ub133ScsM
The song is available on iTunes here https://itunes.apple.com/gb/album/beginning-of-the-end-single/id714032144
and Amazon here http://www.amazon.co.uk/Beginning-The-End-Rozii-Chaos/dp/B00FDX9VPO
Douglas Garnett – douglas.garnett@gmail.com