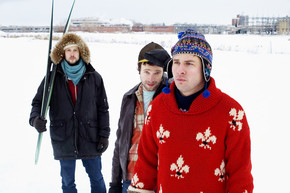 The brand new video for "The Mama Papa" was directed and conceived by Sinbad Richardson, a young Montreal filmmaker.
It stars Plants and Animals, as well as childhood friend, Joe Cobden, an actor who has appeared in I'm Not There, Blindness, The Aviator, and more.
The Mama Papa by Plants and Animals from Secret City Records on Vimeo.
Photo By: Caroline Desilets