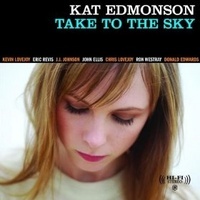 When Kat Edmonson sings her first note in "Summertime," her voice could be mistaken for a mournful alto sax solo. Hers is the kind of voice that was created to seduce jazz melodies, reminiscent of the old jazz greats who first sang these songs and showed the world what a stage full of musicians could really do.
Take to the Sky is a journey. Edmonson travels through different decades as she puts her soulful touch on different songs from different decades. She opens with "Summertime" and even includes a cover of "Lovefool," mocked in season three of The Office for its ability to annoy, transformed into something soft, lovely, and sweet. And charming.
On this album, Edmonson can just be who she is. Her voice is pure and soulful. She isn't afraid to step aside and showcase the band behind her, specifically with the bass clarinet solo in "Charade." It is smooth and melodic and makes me wonder why I haven't heard more bass clarinet solos in my lifetime.
Every note Edmonson sings is sultry and mysterious. And when she sings, you want to be there listening, no cares in the world, one of the happy people ordered to "drink up" in "Angel Eyes." The album shines with personality and romance, and soul.
Anyone who appreciates jazz will love the passion that drives Edmonson's music and will certainly be reminded of the beauty and simplicity behind it. This is one singer who knows that it's not about the money or the fame, but the emotion. Whether she's singing John Lennon or the Gershwins, she puts her own personal touch on songs we've all heard before and won't soon be forgetting.
Review By: Valerie Williams
[Rating: 4.5/5]