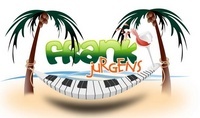 First off, I have to mention the front cover of this new record—Simply Awesome!   All summer, completely tropical and always laid-back is the vibe that bounces off from the art.   You see two palm trees holding up a hammock made of piano keys while the sun beams are gleaming in every direction.   I, myself, am a HUGE summer/tropical person, so much respect for the cover art.   Sand, beaches, water, palm trees, sandals, your favorite summertime drinks (margarita!) and of course that fun-in-the-sun/kick-back-and-relax mentality I definitely relate with.   Not to mention the bright colors used for the front cover are so appealing and inviting–job well done!
The feel of the cover feeds right into the sound of the album.   Jurgens mixes rock, reggae and even blues to produce a very fun & refreshing sandsation.   Last Call at the Tiki Bar starts off with a very old-time, vintage rock & roll sound.   Track two displays a rich array of instruments such as: tuba, trumpet, sax, trombone and drums.   The title track offers up an island groove blended with a boogie-woogie feel–very cool.   On "Mr. Blues Man", Jurgens and his Sun team slow things down a bit with bluesy guitar playing along with light tapping on the drums and soft strokes of the keys.   Song #7, "With You, With Me", provides a very nice piano medley by none other than Mr. Summertime Blues, Frank Jurgens.   The following installment has an infectious harmonica sound that could be enjoyed in any bar or better yet, Tiki Bar.   "Squeeky Sheets" actually has a country, blues sound that I will categorize as classic, saloon style.   Jurgens wraps it up by going out on a sentimental note with "Never Let You Go".  
This piano-based singer/songwriter has a lot to offer to listeners on this album with so many styles mixed together.   You also hear terrific players backing Jurgens in stellar fashion throughout the whole recording.   Frank Jurgens' record will definitely heat up the scene with this new release.   My only suggestion is that Jurgens' voice, at times, didn't seem to jive with the overall music delivery & production.     Soak up the sun and take a splash with Last Call at the Tiki Bar.
For more details, SKOPE out www.frankjurgens.com.  
By Jimmy Rae
[Rating: 3/4]