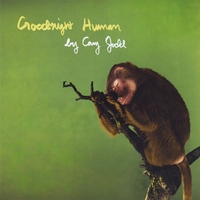 Cary Judd is bringing his own brand of indie pop/rock to Goodnight Human.   Judd is incorporating the best of both worlds here:   Digital vs. Acoustic.   One element doesn't overpower the other; the digitized sound and acoustic style can coincide wonderfully on a record.   Judd accomplishes this feat on his new album by uniting the two forces into one powerful set.   The rest is history, so say goodnight…….humans.  
Cary has a very unique and sophisticated tone to his voice.   The vocals are serious yet not too shy of pep.   His well-rehearsed chops can be coined as distinguished while at the same time fun.   Cary Judd is bringing intuitive energy to the music world and shedding new light on the Indie Pop/Rock world.
This singer/songwriter originally from California now resides in the mountainous terrain of Wyoming.   Judd supplies the voice and instruments while Daniel Kunz adds guitar and keys to the mix.   Judd has also been lucky enough to be surrounded by many talented musicians while making this record.   Everything in place for a terrific album!
The heart and soul of Goodnight Human is Cary's trusty acoustic guitar, but the effects of the various loop machines, sequencers, effect pedals and drums add a whole other dimension to the table.   Between Judd's catchy chops, fine acoustic playing and the cool digital effects all add up to one huge platform of inventive pop/rock.   Going beyond the realms of basic Indie music, Cary Judd isn't afraid to experiment with his own distinct method of music making.   End Result: Success!
Can't leave without mentioning the well-written & well-versed lyrics I heard here.   On track #2, "The Apocalyptic Love Song", Judd is showing the listener the true vulnerability of the word love by telling us to "try to fill the blanks with purpose".   Then on "See Through Rocks", he throws in a religious connotation by singing, "I saw God shaking his head at the foolish things we said".   Not to mention, Cary spins out some very impressive electronic elements on this song.   I even heard reverb effects & techno dance beats along with snappy/happy tones while listening to this recording.   Very deep and very meaningful, but all the while keeping it very hip and very happening is Judd's story.   And what better way to end this story…….Goodnight…..
For more background on Cary Judd and Goodnight Human, SKOPE out www.caryjudd.com.  
By Jimmy Rae
[Rating: 4/4]