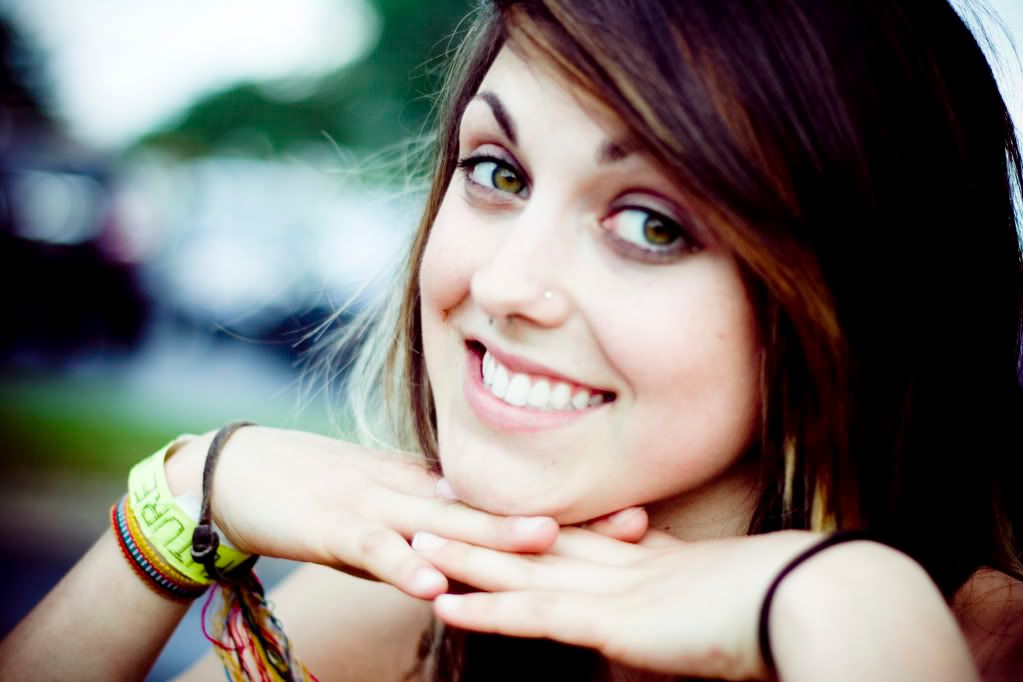 While fans anxiously waited for doors to open for the band's hometown show, I was able to do interview with Sierra Kusterbeck of VersaEmerge, the latest addition to Fueled By Ramen, who have many other bands high on the bar signed to the bar. The band is now on a tour with There For Tomorrow, which kicked off in Nashville on April 27th, and will be doing shows until Warped Tour finally creeps up on them.
SKOPE: What do you enjoy about being in a band?
SIERRA: Playing for tons of kids every single night, it's the best feeling in the world by far.
SKOPE: And what don't you enjoy?
SIERRA:I really like my alone time and being in a band, I lose that.
SKOPE: Where did the name VersaEmerge come from?
SIERRA:Blake come up with it, they were switching band members, genres, and just the band completely, and "versa" comes from vice-versa, "emerge" means to rise.
So it's like a big explosion, and that's sort of how they felt at the time when they were going into the band.
SKOPE: How did you all come together?
SIERRA:They all knew each other from around Port St. Lucie, and eventually when their old singer left, they added me after seeing me on-line and liked my singing.
SKOPE: What song would you like to cover?
SIERRA:Me and Blake have been tossing an idea for a cover around for a long time, and whatever that cover becomes we are definately sure that we want it to be a cover of a Björk song!
SKOPE: If you could have your own dream tour, who would it be?
SIERRA:There are so many bands that I could think of right now, but I'd have to say my dream tour would have to be something with Muse. They're such an amazing band!
SKOPE: Did you enjoy being in their homeland at Give It A Name festival?
SIERRA: Just being in an entirely different country was enjoyful enough. The UK is home to many great bands too, so it was just really nice to be there.
SKOPE: What's your favorite song it play live?
SIERRA: Whisperer. I'd say Clocks, but after playing a song so many times, you just get a little bored of it.
SKOPE: How do you fight back against the Paramore/Hey Monday comparers, and the LiveJournal community FBR_TRASH?
SIERRA: I don't fight back, it's just nothing to me. There will always be haters out there, and I don't think it's a good idea to fight back. Same for FBR_TRASH, but I don't have a
LiveJournal account.
SKOPE: So, it's true that you did not make the posts about people comparing you to Hayley Williams in the Paramore LiveJournal community?
SIERRA: Somebody came up to me and asked me if I really said all those things on LiveJournal and I didn't know at all what they were talking about. Until that, I never even heard
of LiveJournal. I don't understand why someone would try to act like me.
SKOPE: Did you enjoy doing your first official music video? (Past Praying For)
SIERRA: Yes, it was a great experience! It was such a long, long day though.
SKOPE: Performed the song a lot?
SIERRA: VERY many times.
SKOPE: Would you love to start doing arena shows?
SIERRA: Doing arena shows would be so amazing, hopefully one day in the future we will have the opportunity to do that.
SKOPE: What has been your favorite place to play?
SIERRA: Me and the guys have been thinking about that, and we finally decided on Canada. The fans there are just so amazing. But no doubt, we love playing here in our home state of Florida.
SKOPE: If you could take an animal on tour, what would it be?
SIERRA: Oooh! I would love to take something that definately wouldn't poop everywhere. Maybe a spider, or a snake, that'd be cool.
SKOPE: Favorite gift you've gotten from a fan so far?
SIERRA: My favorite gift? I got finger puppets from the most amazing boy in London, and he gave me chocolates too.
SKOPE: Ever had an embarassing live moment?
SIERRA: Oh my god, countless times! I'm the most clutsy person, so embarassment happens all the times whether it be my mic coming out of my cord, me falling over,
burping in the middle of singing, and just saying the totally wrong thing that never should've said.
SKOPE: How about your pitch going crazy?
SIERRA: Yeah, that too.
SKOPE: Finally, are you guys excited for the Vans Warped Tour?
SIERRA: SO excited, it's going to be so fun on our first time doing Warped, and can't wait to experience the things I've heard about it.
For VE's upcoming tour dates, check out their Myspace: http://www.myspace.com/versaemerge