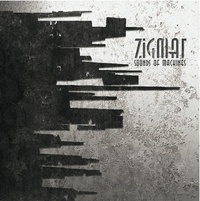 If one word describes Zigmat, it's intriguing. A blend of electronica and indie rock, Zigmat is one band that is not afraid to experiment with different musical flavors. The first twenty seconds of the opening song, "Whisper," are immediately reminiscent of Frou Frou's "Let Go," which blends into a verse backed by mournful Spanish-influenced acoustic guitar chords. Layered on top of that is a beat that sounds like something from Alicia Keys's first album.
"Whisper" is also interesting lyrically, as it details a one-night stand from the perspective of the woman as the one who sneaks out in the middle of the night rather than the other way around. It's also more heartbreaking than the music lets on. There's talk of vows and promises that can't be kept and mutual longing, a thirst that can't be quenched.
The album takes a more optimistic turn with the track "Light of the Moon," which sounds lighter, although it does open with the line, "You know that I'll kill, I'll kill for you/So that we'll make love by the light of the moon," which is certainly an alternative to rainbows and butterflies, especially when followed by, "You know that I'll cut, that I'll scar you/So that I will say I won't go so soon."
Intense lyrics aside, the song is incredibly catchy. It has a more rocky feel than the other songs and is really able to showcase vocalist Monica Rodriguez, whose voice shines in a way much like Rosario Dawson singing "Out Tonight" in the movie version of Rent.
Aside from mixing genres, Zigmat mixes languages, singing a portion of the lyrics of "Don't Tire" in Spanish. Including this bit of culture into the music really makes the band a force to be reckoned with in the up-and-coming music world. Sounds of Machines is definitely enjoyable, as it is filled with lyrics that, although often simple, are always honest, and a mix of genres that will make you rethink the definition of "electronica."
Review By: Valerie Williams
[Rating: 3.5/5]