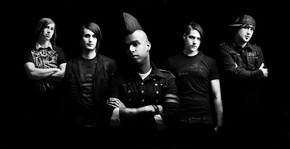 My next guests are a five piece band that originated in Port Alberni, BC. What started out as a two person band quickly grew to five. Almost five years later The Veer Union have arrived. The guys have secured a deal with Universal/Motown Records and have toured enough to last a lifetime. Their debut album, 'Against The Grain' is out now and it's a keeper. The Veer Union were cool enough to take a break from the music life and let Skope know what's really going on with them.
Skope: How did the five of you come together to form The Veer Union?
 
The Veer Union: We were all in other bands playing music for all the wrong reasons.   It was getting very political, and a lot of negativity surrounded the situation. The word "Veer" means to change direction. We all wanted to start playing/performing music for all the right reasons, so we veered away from what we were doing, came together as a "Union" and here we are.
 
Skope: When you first started out was it for the fun of playing music or did you want to make a career in music?
 
The Veer Union: Music is our escape, of course we started playing because it is fun, so why not make a career out of it?
"Seasons" (Windows Media):
Skope: What made you all realize that together you could do big things in music beyond your home in Vancouver, Canada?  
 
The Veer Union: I think it was our second show that really opened our eyes.   We had won a local radio contest and played our second show as a band in front of 8,000 people, and everyone loved it. They went off! Even all of our friends and family when we first started, weren't just being supportive, but really enjoyed our music.  
 
Skope: You just finished a three month US tour. How did you feel about how the US crowds embrace your band and how important is the US market to your success?
 
The Veer Union: The US market has been amazing.   Every state is different than the next, but when it comes down to it, they all love their rock and roll!   The US market is incredibly important to us. First off, we are signed to Universal Motown out of New York City, and the US market is WAY bigger than Canada's.
 
Skope: How did you feel when you heard that Universal/Motown was interested in signing your band?
 
The Veer Union: We were stoked.   We had been working as an indie band prior, doing everything ourselves.   Universal Motown was backing everything we were doing and wanted to make it bigger, so signing with them was definitely the correct move.
 
Skope: How did working with Greg Archilla help to elevate your sound and what did you learn from working with him?  
 
The Veer Union: Greg was awesome to work with.   Really chill and relaxed guy.   Greg was great at catching the right "vibe" for each part of the record.  
 
Skope: Is there more pressure on you now that you are signed as opposed to before when you were independent?
 
The Veer Union: There has always been pressure, It's just now at a whole new level.   We aren't just trying to break Vancouver anymore, we are trying to break the whole continent!
 
Skope: Why did you choose to name your upcoming album, "Against The Grain" and how is that coming along?  
 
The Veer Union: We felt Against the Grain was the right title because to get where we are right now, we had to make so many sacrifices. We live by the motto "Whatever it takes", and there are many people out there that will disapprove, or frown upon our choices, especially when you're starting out.   We are going to continue to do whatever it takes to take TVU to the next level.
Skope: You are very involved with the "You Can Be Anything Foundation." Can you explain how that came to be and playing for school kids during lunch?  
 
The Veer Union: DeAvon Burnes (YCBF) found us via myspace.   He was really impressed with what we were doing.   So after a few discussions over the phone we decided we wanted to give the high school thing a go, and it turned out great.   The kids love it.   I know that when I was in high school, if a rock band came to play for us at lunch, I'd be stoked! The biggest thing we get out of the high schools, is when one of the students writes us on myspace and says " you guys rocked, you've inspired me to pick up my guitar again!", now that means the world to us!
Skope: Where can listeners get more from The Veer Union and what is coming up next for you?
 
The Veer Union: For a tour updates and what's going on with us, you can hit us up on www.myspace.com/theveerunion and the our first single "Seasons" is available on itunes, GO GET IT!