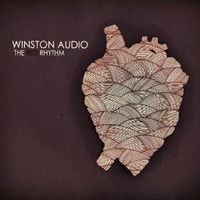 Guitar-driven, grunge-influenced RAWK with the amps cranked to "deafen." Yep, those are pretty ample adjectives to describe Atlanta quintet Winston Audio and their feature length outing, The Red Rhythm. After several listens, the album told me these guys are the kind of musicians that simply play to their strengths and do so well.  
The LP opens to the bluesy sonic assault of "On My Trail." It is a plodding behemoth of a track with a myriad of dark and brooding soundscapes. Lyrically, it is contemplative and deep and their delivery lays nicely over the dirty, feedback-laden guitar work. This formula sets a precedent for the bulk of the LP, but careful attention to production keeps Daniel Dewitt's haunting vocals in the foreground. "Keeping It Down" leads off with dual guitar interplay and sounds like an agro Foo Fighter song. Other WA reviews liken Dewitt's vocal delivery to that of Chris Cornell and this is probably one of the tracks they had in mind (and while this writer simply thinks he sounds like Daniel Dewitt, Cornell comparisons to his upper octave work are certainly not insults). The bluesy spinal cord of "Hey Anne" and the surprise attack of added horn blasts changes the album pulse on the track and showcases WA's versatility well. The down tempo cadence, the drone vocals that morph into controlled yells and the intermittent keys add to the dark demeanor of the tune. Cast this one as the album's most eclectic.
In the ocean of EPs I have been working on lately, it was good to get something full length. Hearing all the tracks of Rhythm grants a look at WA's full catalog and available talent. The verdict is there is nothing contrived here; this is an honest, straightforward rock album and a benchmark in what should prove to be a storied career.
Author's note: For my Boston readers who want to get the live digs on Winston Audio, check out their upcoming show at the Middle East with Manchester Orchestra on April 30th.  
Review By: Chris West
[Rating: 3.5/5]