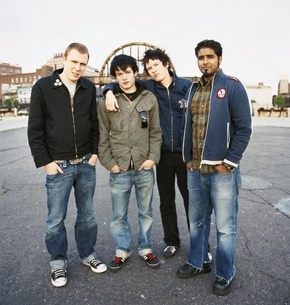 Last night around 7 pm EST we got a call at the Skope HQ. It was Derrick Whibley from Sum 41.
Sum 41 has been busy these days touring in support of their new greatest hits album, 'All The Good Shit: The Best Of Sum 41' that has been out since March 17th. This album is a must have for all Sum 41 fans.
Deryck was talking to us from his studio in Los Angeles. We had alot to ask him so we broke it down in two parts. Deryck got open about various things from being in the business for over 10 years, being on the road, the digital tarnsition in music, being married to Avril Lavigne, and much more. He is one of the most down to earth musicians and the interview shows that.
SKOPE TV PHONER WITH DERYCK WHIBLEY OF SUM 41 PART I
[youtube nvGrevYYgKs nolink]
SKOPE TV PHONER WITH DERYCK WHIBLEY OF SUM 41 PART II
[youtube R_lRybeqQYw nolink]
www.sum41.com
www.youtube.com/skopetv