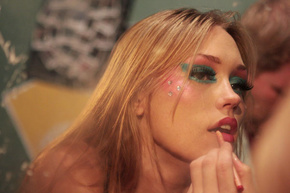 This May, MTV will present "$5 Cover," a musical drama set in Memphis, Tennessee, and stars the hottest up-and-coming Memphis artists playing themselves as they fight for love, inspiration and money to pay the rent.
The series explores the modern-day incarnation of the city's historic music scene through the lens of Memphis-based filmmaker Craig Brewer, acclaimed director of "Hustle & Flow." Fans will have full access to all the music and artists they discover through "$5 Cover" with the release of the series' soundtrack, available exclusively in digital formats, on Tuesday, April 28.
Craig Brewer on $5 Cover:
$5 Cover Teaser:
"$5 Cover" was created by Craig Brewer (Hustle & Flow, Black Snake Moan). David Gale, (EVP, MTV New Media) is Executive Producer. Scott Bomar, Erin Hagee, and David Harris are producers, along with Jen Ringel as co-producer.
$5 Cover Official site:
$5 Cover photos: