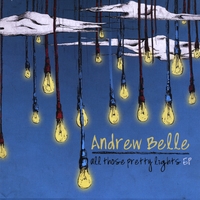 Chicago son Andrew Belle has released his debut EP All Those Pretty Lights to much fanfare having become a staple on the Windy City's music scene and following that up with an appearance at this year's SXSW. Though brief (clocking in at around the 20-minute mark) the EP is a solid foundation and a good first run for the fledgling artist and features moments of unbridled talent, but with an "I've heard this before" feel.
Album standout and opening track "I'll Be Your Breeze" is hallmark Belle–contemplative and emotive lyrics (delivered almost Chris Martin-ish) with a backing of pure pop sensibility. Musically tight and technically sound, the song is the "which one of these doesn't belong with the rest" of the album, but in a good way. Title track "All Those Pretty Lights" is vocal- and piano-driven and again features Belle's thinking man's lyrics and his inherent ability to paint a picture with words. And though no offense is meant, this track seriously sounds left off of The Fray's last album. Finally, "In Your Sleep" is a down tempo, deep anthem that features intermittent electric guitar and piano interplay, with backing chirps of strings and a rhythm section foundation that create a myriad of layered sounds. Slow and demure, it is a near opposite of "Breeze."
A strong pop sense and no production work spared have rendered a respectable initial outing for the young songwriter. The unmistakable likeness of the sound to The Fray however, is rampant and the two seem virtually interchangeable. They say imitation is the most sincere form of flattery so whether deliberate, mere coincidence or just a simple similarity, The Fray should seriously be blushing right about now.
Review By: Chris West
[Rating: 3/5]