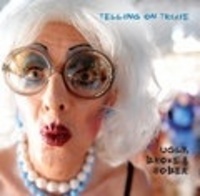 This New York Indie Rock Powerhouse is made up of five members:   Derek Nicoletto on vocals, Brad Small on guitar, Tommy Kessler on lead guitar, Tom Welsch on bass and Andrew Frawley on drums.   This quintet is bringing hard-rockin', power-pop to the table with heavy emphasis on the guitar.   The guitar-staple sound on this record is due in big part to the newest edition of the band, Tommy Kessler.   Seven out of ten songs on this album were also produced by Kessler with the exception of three belonging to platinum-selling producer, Jamie Siegel.   The overall effect seems to fit just perfect with the drummer hittin' it, the bassist pluckin' away, the guitarists rockin' out and the singer honing a well-textured and powerful vocal delivery.   When it works, it works and Telling on Trixie's Ugly, Broke & Sober shines through.
The beauty or treat if you will of this record is that the entire project was revolved around the fans.   I'm not talking about these five musicians just simply making music for their fans; I'm talking about the fans helping make music for their band.   People from all over the world banned together to raise over $20,000 for Telling On Trixie's latest release.   Fans didn't just raise money for the album, but also provided major input toward the making of the record.   This is all thanks to the website, A Band With a Plan at www.abandwithaplan.com, which encouraged all this creativity.   Nicoletto had this to say: "It's a two-way process.   As I made decisions on our new album, I would share them with the fans and get their feedback.   They're involved–as if they were record execs in their own right".   Over 80 individuals from five different continents participated in this project and I would say history in the making!   Not just history, but Telling On Trixie proved to go way above and beyond just Fan Appreciation Day.   The fans are major contributors to this album in more ways than one even down to the title.   Ugly, Broke & Sober came from a lady named Valerie who said, "Go with Ugly, Broke & Sober because when you guys began the process, it was ugly how broke you were and that's a sober fact!"  
The music speaks for itself as well by not sounding Ugly and Broke by any means, but maybe a little Sober punch.   Derek's voice I thought was very potent and had similarities with Chris Robinson from The Black Crowes.   The record starts up with an extremely cool guitar part while track #4, "A.N.F.O", has just a pure, straight rock groove that was so infectious.   The closing track, "Steps To The Throne", is actually a bit low-key/darker, but still packed with much flair.   These NY cats even covered a Belinda Carlisle song, "Mad About You", that was so inventively different.   Telling on Trixie's take on Carlisle's original is much more rock-oriented while still keeping its charm of being fun/upbeat.   I would say that this version is a real Go-Go-Getter of a song!  
For more on Telling On Trixie and Ugly, Broke & Sober, SKOPE out www.tellingontrixie.com.  
By Jimmy Rae
[Rating: 4.5/5]