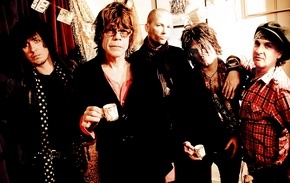 Atco Records presents the fourth studio album for the NY Dolls, 'Cause I Sez So available May 5! The album which was produced by Todd Rundgren features 11 original tracks and a new version of "Trash."  
In celebration of the release of 'Cause I Sez So the NY Dolls will be holding a release party on May 5 at the Varvatos store in NY (315 Bowery) where the band will hit the stage at 8 PM.
'Cause I Sez So Listening Party (first 6 tracks):
'Cause I Sez So Track Listing:
1. 'Cause I Sez So
2.   Muddy Bones
3.   Better Than
4.   Lonely So Long
5.   My World
6. This Is Ridiculous
7. Temptation To Exist
8. Making Rain
9. Drowning
10. Nobody Got No Bizness
11.Trash
12. Exorcism Of Despair
Recorded at Utopia Sound Studio in Kauai, Hawaii, the album features 11 original compositions and a new version of "Trash," which was on their 1973 debut album. "It was amazing working with Todd again, and I think we were able to evoke the special sound of our first album and drag it by the hair into the present," says frontman David Johansen.