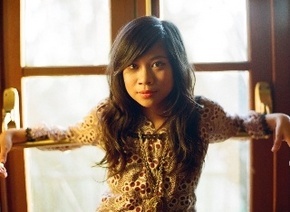 Zee Avi was discovered on YouTube.com by Raconteurs drummer, Patrick Keeler, who brought music to the attention of his manager Ian Montone (The Shins, The White Stripes, Autolux) and he was blown away.
Zee is based in Malaysia and was immediately flown out to begin recording. Her debut album will be in stores on May 19th.
"Darling" Audio Stream:
EPK:
[youtube y-usUxspUeY nolink]
Monotone Records is owned by Ian Montone, whose Monotone, Inc. manages the White Stripes, M.I.A., The Shins, Vampire Weekend, the Raconteurs, Against Me!, Cold War Kids, Crookers, among others.  
Brushfire Records is owned by Jack Johnson and his manager Emmett Malloy and is home to artists like Rogue Wave, Matt Costa, Neil Halstead, Money Mark, G. Love, Mason Jennings, ALO and Zach Gill.