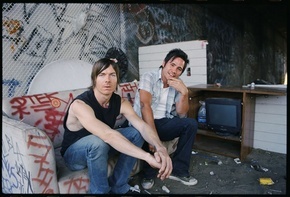 Zack Lopez (guitars & vocals) and Sean Stockham (drums) had been playing together in various bands for years before realizing their strength as a two-piece in 2006 to form Middle Class Rut.  
Hailing from Sacramento, the duo plays garage rock with a burning intensity that can simultaneously remind listeners of the power of The Black Keys with the attitude and sound of Jane's Addiction.  
Currently taking over the UK on a tour with …And You Will Know Us by the Trail of Dead, US audiences will get their first listen with the release of the 25 Years EP from Bright Antenna Records May 12.   Take an early peak at what has UK audiences so enthralled with a free download of the seering "Busy Bein' Born" below.
"Busy Bein' Born" MP3:
25 Years Tracklisting
1. 25 Years
2. Dead Set
3. I Guess You Could Say
4. All Walks of Life
5. Tied Up
6. I Don't Really Know