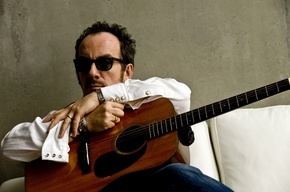 Hear Music presents the all new album from Elvis Costello, Secret, Profane & Sugarcane on June 2.   Secret, Profane & Sugarcane features ten previously unreleased tracks produced by T Bone Burnett plus re-workings of Johnny Cash's "Hidden Shame" & "Boom Chicka Boom" and Bing Crosby's "Changing Partners."
"Complicated Shadows" Audio Streams:
Joining Costello were Jerry Douglas (dobro), Stuart Duncan (fiddle), Mike Compton (mandolin), Jeff Taylor (accordion) and Dennis Crouch (double bass), some of the most highly regarded recording artists and musicians in traditional American country music, Bluegrass and beyond.  
Several of these songs, including "Down Among The Wines and Spirits", were given their first public performances during Costello's acclaimed solo appearances as part of "The Bob Dylan Show" in late 2007.
SECRET, PROFANE, & SUGARCANE TRACK LIST
1. Down Among the Wine and Spirits
2. Complicated Shadows
3. I Felt the Chill
4. My All Time Doll
5. Hidden Shame
6. She Handed Me a Mirror
7. I Dreamed of My Old Lover
8. How Deep is the Red
9. She Was No Good
10. Sulfur to Sugarcane
11. Red Cotton
12. The Crooked Line
13. Changing Partners