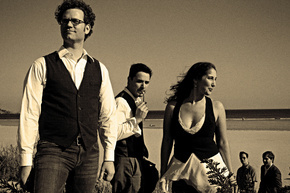 These next guests are a local Boston favorite band by the name of This Blue Heaven. They have played in just about every respected live music venue from NYC, Boston & New England. The exciting thing about this group is that they have just released a new full length 'Quicksandglass' and they are having a huge release party this Saturday night (4/25/09) at The Paradise Rock Club in Boston, MA. I am a fan of This Blue Heaven  & will be at the show so I figured what a perfect time to have them on Skoped out!
Stoli: How did you come up with the name This Blue Heaven?
This Blue Heaven: The most important part of the name This Blue Heaven is "this."   We've got this life, this day, this chance to live out our ideals.   And we're not in denial — life (and humanity!) is chaotic and unpredictable and fleeting — but you grapple with it.   Many of the songs on our debut album Quicksandglass grapple with the sense that time is slipping through our hands, so how do we grab hold of a life and sculpt it into something true and passionate and good?   This Blue Heaven is the reminder:   this is the life.
Stoli: How is it for MacKenzie being the only female in the group with 4 other males?
This Blue Heaven: MacKenzie is a good combination of smart ass and nurturing, so it works out pretty well. She brings a lot of warmth to the band (personally, musically, and in performances) but at the same time she won't hesitate to put the smack down when necessary. She's been known to sleep through our football parties, but on the other hand her sense of humor can be pretty crude so we get along pretty swimmingly.   Sometimes she refers to the rest of the band as her lost boys, and herself as Wendy. That's about right.  
Stoli: How long did it take to write & record the new album, 'Quicksandglass?'
 
This Blue Heaven: We had a killer time making Quicksandglass with producer David Messier of Same Sky Productions.   It was a defining experience for us, both in terms of our sound and in the sense that it really brought us together as a band.   The way David works, the process involved constant listening and creative input from everyone present, so over the course of the six months we were recording and mixing, we learned a whole lot about our collaborative style.   It has really informed the way we craft new songs now.
Stoli: Where can readers preview the new album & grab a copy?
This Blue Heaven: Everywhere! Okay, almost everywhere.   iTunes, Rhapsody, Napster, eMusic, Amazon mp3, IMVU, Lala, Shockhound, Amie Street.   Oh, and at the PARADISE ROCK CLUB SATURDAY, APRIL 25th.
Apr 25, 2009 – Saturday @ 8:00 PM  
PARADISE ROCK CLUB – www.thedise.com
967 Commonwealth Ave.
Boston, MA
18+, $12 adv/$15 dos
8pm This Blue Heaven
9pm Elephant House
10pm Parker House and Theory
Stoli: In regards to selling the CD did you focus more on digital or retail sales?
This Blue Heaven: In our marketing, we've focused on digital, but we also had a run of discs pressed for radio promotions, giveaways, and selling at shows.   We're currently looking into download cards to sell at shows as well.
Stoli: One of my favorite tracks from This Blue Heaven is "Insomnia." What does that track mean to you & when did you record it?
This Blue Heaven: Insomnia might be the most literal example of time-angst on the album. When you're trying to fall asleep but are plagued by the incessant voices in your head — what if? how can I? when will? — every ticking second is palpable. It's not a big jump in those dark hours to "when I die."   That expression "I'll sleep when I die" usually means your life is full in a good way, but when you can't fall asleep, all the wasted minutes seem to swirl around you. So yeah, it's a grappling song.
Stoli: Who does most of the songwriting for the band and is the band a democracy for the most part?
This Blue Heaven: On the CD, Aaron and Stu each wrote music and lyrics and MacKenzie contributed lyrics to four songs in the album — there was plenty of group editing along the way. But during recording, we learned a lot about each of our strengths, so the process has become even more organic.   MacKenzie is writing almost all lyrics now.        
Stoli: Your song, "That Summer" was played on Boston's FNX 101.7 radio. How did that come to be and what effect did that in regards to promoting the band?
This Blue Heaven: Boston's FNX has played That Summer, My Disgrace, and Innocent Again, and WAAF has spun Bliss and Innocent Again.   There have been some other terrestrial and internet radio plays across the country.   Radio play so far has come from the traditional elbow grease route–sending promo kits to the stations and doing all follow-up ourselves.   We've been in contact with a number of publicity companies who specialize in getting bands on the radio.   We'll probably do a college/AAA radio campaign with one of them later this year.   So far, the biggest effect radio play has had is to lend us some cred in our marketing efforts–people pay attention when you say you've been on FNX.   But the vast majority of ticket and album sales are still coming from grassroots efforts/word of mouth.
 
Stoli: Boston is a huge music town. What is your favorite venue to play there and why?
This Blue Heaven: It is!   Picking a favorite venue is tough…there are so many great ones, and all for different reasons.   The last few times we've played Church have been really fun–great location, stage, sound, and staff.   The Paradise Lounge was also a favorite, it's a shame that space closed…but we'll be in the Paradise big room on Saturday (4/25) so no complaints there!
Stoli: You have a few northeast dates coming up. How do you make sure that every show is special and you give a great show every night?
This Blue Heaven: The bottom line is we're there to connect with people through music and hopefully inspire them to let go of the burden of the trivial a bit and just enjoy the moment. That's why we get up there.   Each audience in each room on each night has its own energy and vibe — its own needs, really. We get up there and look out at the faces and it doesn't take long to feel what will get people loose and grooving. We tinker with our set list a lot.  
Stoli: Does the recession have any effect on your musical plans for the band in 2009?
This Blue Heaven: No…unless one or more of us happens to get laid off from our day jobs!   But until you get your big break, there's not really any money in being in a rock band, recession or not.   We all have day jobs and that allows us to keep making recordings and keep putting our music out there.   The recession definitely hasn't seemed to have had an effect on attendance at shows or merch sales–people are as into music as ever.   Maybe even moreso now…in tough times, there's an even greater drive to connect with people and find release.  
 
Stoli: From looking at your pictures on MySpace you all look like you are friends. What do you like to do as a band when you are not creating music?
This Blue Heaven: We've definitely become a family, and are all up in each others' lives. We do a lot to take care of each other. There's a lot of band love. Sometimes it's like a family in that "why can't I escape you" kinda way, but those moments are rare and pass quickly.      
Stoli: What can fans look forward to from This Blue Heaven for 2009 & beyond?
This Blue Heaven: More shows in more markets, and some small tours.   We're also always writing new music and plan on recording an EP late this summer — we can't wait to get back into the studio!
Stoli: Thank you very much!
This Blue Heaven: Our pleasure!