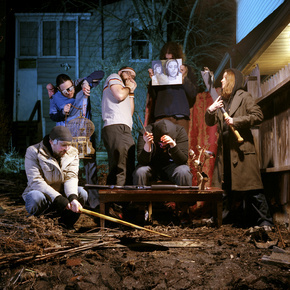 Graveface Records is now offering the "Born On A Day the Sun Didn't Rise" single from 'Eating Us' (May 26) as an MP3 download so fans can hear the fully fleshed-out BMSR as produced by Dave Fridmann (The Flaming Lips, MGMT, Weezer).
Fridmann takes BMSR's adventurous sound to new sonic heights by replacing the spliced electro beats used in their previous recordings with D.Kyler's booming, hip-hop styled live drums, cranking up the undulating bass guitar to blend seamlessly with the crunchy beats, and making frontman Tobacco's vocoder lush and up front, creating a creepy and angelic sound that bridges human voice and machine.
Fridmann keeps the candy-coated sticky textures created with vintage synths, guitars and freaked-out analog effects for which the group has become known and loved.
Download "Born On A Day The Sun Didn't Rise" here:
Black Moth Super Rainbow Tour Dates * w/ School of Seven Bells
Sat. Apr. 25 – Pittsburgh, PA @ Carnegie Mellon University (Spring Carnival)
Wed. May 20 – Chicago, IL @ Bottom Lounge *
Thu. May 21 – Madison, WI @ High Noon Saloon *
Fri. May 22 – Minneapolis, MN @ Triple Rock Social Club *
Mon. May 25 – Quincy, WA @ Sasquatch Festival
Tue. May 26 – Portland, OR @ Holocene *
Thu. May 28 – San Francisco, CA @ Bottom of the Hill *
Fri. May 29 – Los Angeles, CA @ Troubadour *
Sat. May 30 – Costa Mesa, CA @ Detroit Bar *
Sun. May 31 – Phoenix, AZ @ Rhythm Room *
Tue. Jun. 2 – Austin, TX @ The Mohawk *
Wed. Jun. 3 – Denton, TX @ Hailey's *
Thu. Jun. 4 – Little Rock, AR @ Sticky Fingerz *
Fri. Jun. 5 – Nashville, TN @ Exit/In *
Sat. Jun. 6 – Columbus, OH @ Circus *
Fri. Jul. 24 – New York, NY @ South Street Seaport
Photo By: Jae Ruberto