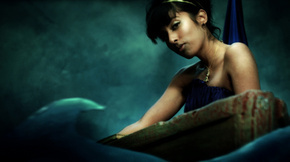 If you are among the growing legions who've been grooving to Anjulie's first single, "Boom" currently #2 on the Billboard dance chart, and the lead track on her digital EP that dropped recently in anticipation of her upcoming full-length debut this summer you'll be excited to know that Anj has a scrumptious new video for the song.
Directed by Adria Petty (Kings of Leon, Duffy, Regina Spektor), the video is now available for your viewing pleasure on MTVu, where it has been placed in high rotation as part of MTVu's Summa Cum Laude programming, as well as being available for viewing on MTV.
Anjulie's self-titled debut was created with her producers Colin Wolfe, who has worked with Dr. Dre and Monica, and longtime songwriting collaborator Jon Levine, keyboardist for Toronto's funk-pop combo The Philosopher Kings. The album will be released by Hear Music on August 4th.

Anjulie | Boom from Concord Music Group on Vimeo.