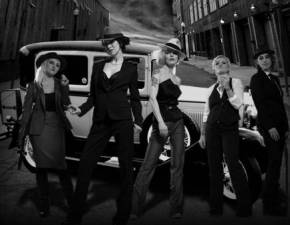 Wicked Cool Records debuts the video for the Cocktail Slippers single "St. Valentine's Day Massacre" on the label's website WickedCoolRecords.com.
The song, written and produced by Steven Van Zandt, is the title track of the band's upcoming release – out April 28th in the U.S. (and April 27 in Europe). The clip pays homage to the Chicago mobsters of the 20's with scenes shot in black & white, capturing the feel and mood of the time.
Click to download "In The City":
The Cocktail Slippers loved playing the mobster roles so much they might give Silvio a run for his money. "Maybe we should start our own TV show — The Soprano-ettes!" said Modesty Blaze.
Cocktail Slippers Diary – St. Valentine's Day Massacre
[youtube ig5HgZGxnHQ nolink]