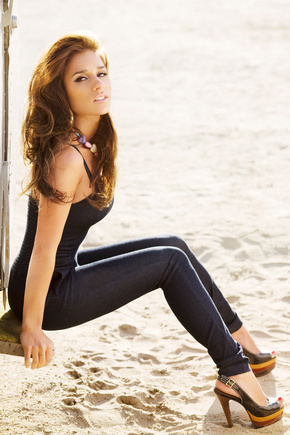 My next guest could have easily gone into modeling or acting. But, thankfully music is her calling so I get to chat with Jessie James. At 20 years old Jessie has a record deal with Mercury Records/Island Def Jam. She emerged on the scene with her catchy single, "Wanted." Jessie has been busy working on her debut album but she was cool enough to talk with us about dating, getting signed, having her face licked in the morning, and much more!
Stoli: How has your life changed since before & after to signing with Mercury Records / Island?
Jessie James: I am busier! I am doing more, it's like having a job. I am working three times as much as I used to. And I never get to have sex!
Stoli: What went through your mind when you saw that LA Reid & David Massety were so receptive to your sound & movement?
Jessie James: I knew they were going to sign me. I got a feeling when I was on the phone with them, it was the feeling that this is the right move before I even got to New York.
Behind The Scenes With Jessie:
Stoli: How long would you say that you were grinding & shopping labels before getting the deal?
Jessie James: Two years. I started trying to get a deal in Nashville at the age of 17, but no one would sign me because they thought I was too pop! And now, I am at the perfect place, Island Def Jam!
Stoli: You are obviously very attractive. Do you ever feel like that takes away from how talented you are musically or does it help?
Jessie James: Yes, it takes away. I sometimes feel like I am discriminated against. Because I am attractive, it's like people don't believe that I could possibly be smart or talented too.
Stoli: Your new single, "Wanted" is hot! What is that song about and did you know that was a hit after you recorded it?
Jessie James: The song is about wanting to be wanted by one particular guy at the time that I wrote it. And after I wrote the song, I called the president of my label and said, I think I just wrote my first single!
Jessie James "Wanted":
[myspace 56291451 nolink]
Stoli: You have been working hard on your debut album. What do you need to get in the mood to be creative and go create music?
Jessie James: My Gigi's gumbo, my puppy LooLoo, and foot massages.
Stoli: What does being signed to Mercury/Island offer you that you did not have access to when you were an independent?
Jessie James: A Land Rover!
Stoli: Tell us a bit of growing up in GA and were you friends & family supportive of you dreams of stardom?
Jessie James: My family has always been supportive of everything I wanted to do, and a lot of people in school never understood my dreams and what I was trying to do, but thank God for my family!
Stoli: There are various sexual undertones in your lyrics. Are you in a relationship or are you happlily single?
Jessie James: I have five boyfriends. Some people like to write about sunshine and break ups, but I like to write about feeling sexy and confident in my womanhood!
Stoli: As a southern woman, what do you look for from a man when they want to take you on a first date?
Jessie James: I don't typically like to go out on first dates, I like to be friends first. But the guy definitely has to be able to make me laugh, and I like a man who is musical. He has to be able to play guitar!
Stoli: You are working with many music legends behind the scenes. How do you keep your composure and not get too stressed out from the expectations?
Jessie James: Because I don't look at those people like oh gosh, Im going to write with this big writer. I look at them as people, we all brush our teeth in the mornings!
Stoli: What can readers gear up for from Jessie James and what gets you excited to get out of bed everyday?
Jessie James: I love to wake up to LooLoo licking my face, and that let's me know that it's time to put on my robe, slippers, for coffee and time to check my emails!