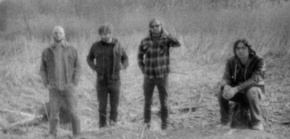 Toronto's Quest For Fire have signed with Tee Pee Records and will release their self titled debut on June 9th. We are leaking the lead track "Bison Eyes" for your listening pleasure.
You would think that playing in bands for a decade, and touring constantly in shitty vans, might instill the desire to make your new project a lucrative one. This however, hasn?t crossed the minds of the four members of Toronto's Quest For Fire. The sonic assault that these guys unleash onto unsuspecting listeners in a live setting, through their sometimes 10+ minute journeys is pure power. A contemporary take on classic rock and psychedelia.
MP3: "BISON EYES":
The band, made up of Andrew Moszynski (guitar), Chad Ross (guitar, vocals), Mike Maxymuik (drums), and Josh Bauman (bass), spent a little over a year holed up in a tiny practice space near Toronto's lakeshore, refining their vision and obsessing over their common love of all things strange.