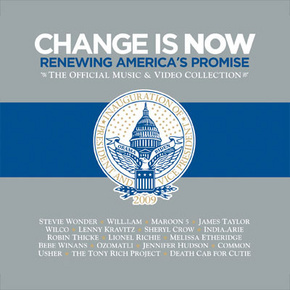 Since its limited release on January 20th, the official music and video collection of the Presidential Inauguration titled "CHANGE IS NOW: Renewing America's Promise" continues to make major headway. The legendary Stevie Wonder's track "All About the Love Again" was just announced as the lead single off the record, with major media presence on broadcast television. More than 50 million people have seen Stevie perform the song beginning with its debut on ABC's Neighborhood Ball during Inauguration night, The Grammy's, The Ellen DeGeneres Show, and most recently on American Idol.
"The Ellen DeGeneres Show"
[youtube XZzW6_nsDCw nolink]
Hidden Beach Recordings, which also released "Yes We Can: Voices of a Grassroots Movement", begins to promote Stevie's song as today's inspirational anthem with universal themes of hope, unity and change. The CD+DVD package itself is packed with socially conscious tracks from the likes of Will.I.Am, Ozomatli, Lenny Kravitz, Maroon 5, Lionel Richie, Death Cab For Cutie, and Common.

Find more videos like this on The Hidden Beach Family
By: Josh East
www.hiddenbeach.com/yeswecan
www.hiddenbeach.com/changeisnow