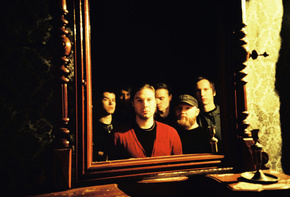 Words will easily fail when one attempts to come up with a comprehensive description of the sonic worlds created by the Turku, Finland based sextet Callisto. No language can adequately convey the feelings of pathos and elegance this music evokes.
The sound of the band is deeply rooted in the characteristically somber atmosphere of the northern landscape they inhabit, yet they somehow manage to make it sound strangely uplifting.
Callisto began their musical exploration in 2001 inspired by bands like Neurosis and Breach. In the last eight years they have progressed far beyond any genre boundaries, from the godly racket of their first album True Nature Unfolds, to the dark and cinematic sophistication of Noir (2006). On May 26th 2009, they will reveal their latest adventurous masterpiece, Providence, in the United States.
"In Session" MP3:  
 TRACK LISTING:
01. In Session
02. Rule The Blood
03. Covenant Colours
04. Eastern Era
05. New Canaan
06. Stasis
07. Where The Spirits Tread
08. Dead Weight
09. Drying Mouths (In A Gasping Land)
10. Providence
Photo by Miikael Narhi