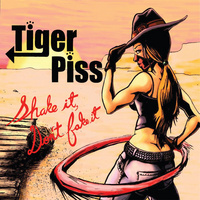 The New Paltz, NY power trio Tiger Piss is infectious, energetic and they sing songs about zombies and pancakes, what more do you need to know?
On their newest release, "Shake It, Don't Fake It", the band has made a huge leap in maturity. Where their debut, "Ear to the Wall", was occasionally shaky and uneven, this sophomore effort is tight in all the right places. Opting wisely for a raunchy edge in the studio, singer/bassist Lara Hope's vocals are faultless and every song is sculpted to perfection.
Combining the very best aspects of dance-punk blended with a little math-rock for good measure, Tiger Piss produce complex pop-punk tracks coupled with playful lyrics belted out in Hope's bluesy bawls and bellows. And deftly situated amongst the quirky, dissonant fills are some serious guitar shredding licks courtesy of guitarist Danny Asis. It's a sound I would feel tempted to compare to The Yeah Yeah Yeahs, but Tiger Piss just does it so much better.
This album is a pure work of love and there's nothing better than listening to a band that loves their work this much. The real joy comes from the lyrics that range from humorous to absurd. You can almost imagine the band meeting that birthed "The Pancake Song" going something like:
Band Member A: "Man, I really want some pancakes!"
Band Member B: "We need to finish writing this song first."
Band Member A: "Fine, this song is going to be about how much I want pancakes."
But the playfulness never detracts from the intricate song craft on display here. This is in no way some wacky novelty band. While Hope sings, "Walking down the street and strumming to my beat. Looking for some meat, but this is Vagina Town," Asis is melting his pickups and scorching your face off like Michael J Fox in Back to the Future.
The only complaints are there are only six songs to whet your appetite and none of them involve pirates and/or ninjas; these being the only two things that could have made this album any more bad-ass. I don't care who you are or what your taste in music is. Find it. Buy it. Tiger Piss is for you.
Review By: David Feltman
[Rating: 4/5]