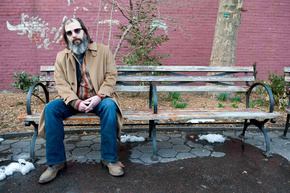 Steve Earle is set to release Townes, his highly anticipated follow up to the Grammy Award winning album Washington Square Serenade, on May 12th via New West Records.
The 15-song set is comprised of songs written by Earle's friend and mentor, the late singer-songwriter, Townes Van Zandt. Townes will also be available as a deluxe two-CD set, as well as double Limited Edition 180 gram vinyl.
MP3 download "To Live is To Fly":
The album was produced by Earle at his home in Greenwich Village, at Sound Emporium and Room and Board in Nashville, TN and The Nest in Hollywood, CA. The track "Lungs," was produced and mixed by the Dust Brothers' John King and features Tom Morello of Rage Against the Machine/The Nightwatchman on electric guitar. Earle's wife, the acclaimed singer-songwriter Allison Moorer, is featured on backing vocals on "Loretta" and "To Live Is To Fly." Three songs cut in Nashville, "White Freightliner Blues," "Delta Momma Blues," and "Don't Take It Too Bad" feature a bluegrass band consisting of Dennis Crouch, Tim O'Brien, Darrel Scott and Shad Cobb.
Townes Track Listing:
1. Pancho and Lefty
2. White Freightliner Blues
3. Colorado Girl
4. Where I Lead Me
5. Lungs
6. No Place To Fall
7. Loretta
8. Brand New Companion
9. Rake
10. Delta Momma Blues
11. Marie
12. Don't Take It Too Bad
13. Mr. Mudd and Mr. Gold
14. (Quicksilver Daydreams Of) Maria
15. To Live Is To Fly