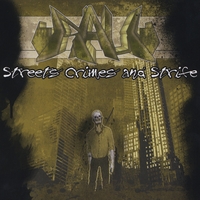 I can't fathom why more hip-hop artists haven't experimented with jazz and blues. Why would you sample Dido when Miles Davis and Leadbelly are just sitting there? (Does anyone even remember Dido?) Aside from a precious handful of acts, the rich and enticing wealth of material goes largely un-mined. Luckily there are guys like Rau's Stewart Rowe walking around with enough sense to dig in with both hands.
Rau's debut "Streets, Crimes and Strife" is an amazingly strong and ambitious premier effort that digs deep, toying with everything from bluesy horn sections to Gregorian chants mixed with trance inducingly ethereal trip-hop. From the first track, which opens with a sample of"St. John's Infirmary Blues" over a hip-hop beat, you get the feeling that this is going to be a special album.
"Streets, Crimes and Strife" is an enchanting album that's not afraid to be intelligent. Rowe spins urban lullabies with the heart of a poet, from instrumental tracks like "Woman" and "The Ethereal and the Voluptuary" whose vocal tracks are sampled or completely wordless, to endearing and political rhymes like "A Better Way to Leave" and "Blind-Faith and Breakthrough" that live up to the album's title.
And to top it off, this album radiates pure cool. Every track is full of a certain groove and swagger that draws you effortlessly through the entire CD. I think it's safe to say that Rowe has created a new form of jazz for the modern age, trading in horns and drums for midi files and drum machines. It may be hard to believe, but trust me when I say that it's a good thing.
This is an album for lovers of both the old and new school. If you like blues, jazz, rap, hip-hop, trip-hop, techno, industrial, psychedelic or just plain music, "Streets, Crimes and Strife will definitely have something to offer you.
Review By: David Feltman
[Rating: 4.5/5]