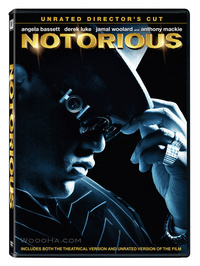 What a pleasant way to start off a Monday night when I go to my mailbox and in it is the 'Notorious' movie DVD. Now I must admit that I did see this movie already in the theater but this was the directors cut so it was that much better.
For those that do not know, this movie is the biography of the late but incredible rapper, Notorious BIG aka Biggie Smalls. Being a fan of Big's since he dropped 'Ready To Die' I was hoping that this movie would offer new details into his life that I did not know already. In that regard this movie did not disappoint.
First off was Big's relationship with Lil Kim. I never knew what a sexual & rough relationship that they had. After watching the movie I felt like Lil Kim was Big's artist & jump off. It seemed to me like Big felt that Lil Kim owed him for making her a rap star.
Next was the Tupac scenario. I was not sure if Biggie did set Tupac up that night in the NYC studio. After watching the movie it did not seem that he did. Thugs must have known that Tupac was going to be there and were ready to do him in. Also the movie clears the air as to whether Faith had relations with Tupac. It looks as though she did not. The movie leaves you thinking what kind of music Tupac & Big would have created together if they remained friends.  
Derek Luke as Puffy was amazing. You have to do a double take to realize that Luke is acting. I always thought that Big and Puffy were closer friends. The movie gives the impression that they respected & loved eachother alot but they were focused on music & money. That is a blessing because it helped Puffy get through to Big like nobody else. Big's life was filled with drama & Puffy knew how to keep his star in line.
The music in the movie was great as they played all the authentic songs. Even when Jamal Woolard was doing Big songs, he sounded perfect. My favorite part is when he is on stage and the crowd is booing them. Big suddenly goes into, "Who Shot Ya" and the crowd goes nuts. I hope to see Jamal Woolard in more movies.
This review took me about 10 minutes to write. That is how much I enjoyed this movie. If you are a Big fan you must see this DVD. If you hate hip hop you should also see this movie to witness how real this genre & it's players really are. If the final scene does not make you emotional than I do not know what to tell you. We will always love Big Poppa!
Review By: Mikey Frieds
[Rating: 4.5/5]