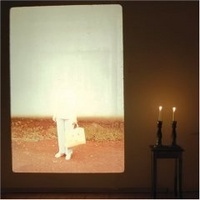 Imagine Thom Yorke singing a funeral dirge or mournfully barking at a gothic carnival and you'll have a close approximation of what Musée Mécanique is all about. Seamlessly weaving elaborate synthesizer lines and musical saws, a perfect mix of technology and archaic instruments, Mécanique's Sean Ogilvie and Micah Rabwin have cobbled together a collection of songs that are at once forlorn and beautiful.
On the whole, "Hold This Ghost" plays out like a ghostly music box. And it becomes immediately apparent in the opening tracks that Musée Mécanique is as fascinated with the mechanical aspects of the music box as they are with the melodic qualities. From the cranking noises on "The Propellors" to the carousel-like organ on "Like Home", the songs revel in their lush motorized reveries. The hand of Producer/Engineer/Mixer Tucker Martine (of The Decemberists and Sufjan Stevens fame) is a strongly felt presence throughout.
In their less techno moments, the band resembles groups like Wild Sweet Orange as on "Two Friends Like Us". And occasionally Musée Mécanique find themselves falling back on more predictable folk tropes, borrowing from Elliot Smith and kin on such tracks as "The Things That I Know" and "Fits and Starts". But these moments never really pull you out of the otherworldly atmosphere of the album.
The real stand out here is the last track, "Our Changing Skin", which condenses the entire spirit of the CD in one of the best closing songs in recent memory. Beginning softly with the lyrics: "Once if I remember well, the days were filled with sun and wind it came to dusk the lights would flicker on, Fortresses of pillows hanging sheets on all the book shelves we were kings and queens of our own little land," the song slowly builds to a funeral march for childhood, complete with sounds like spinning bicycle wheels nestled under the keyboard's plunking melody.
Musée Mécanique has created something truly exquisite in this soft and somber little album. It's not exactly the CD you want to put on to celebrate your winning lottery ticket, but "Hold This Ghost" is an amazing album you don't want to pass by.
Review By: David Feltman
[Rating: 4/5]