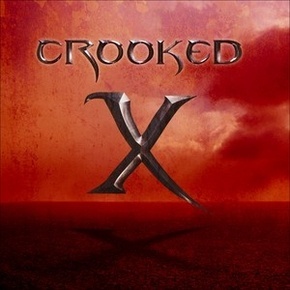 Crooked X are a band on the move. MTV decided to do a mini-doc on the boys which catapulted them to signing with EMI. They have already released a self-titled debut and are currently on tour with Disturbed's "Music As A Weapon IV Tour." The boys from Oklahoma are making their home state proud and their bassist Josh McDowell was cool enough to talk about being on tour, working alongside rock legends, being on a major, and so much more!
Stoli: How did you come up with the name Crooked X?
Josh: I wasn't in the band at the time the name was picked. It was a name they came up with that sounded really cool. I like it alot.
Stoli: You are relatively new to the EMI roster. What made you decide that EMI is a good fit?
Josh: EMI has a ton of good bands and it's an honor and privelage to be on the same label as them.
Stoli: Your debut album is kick ass. Are you pleased with the response and did it come out as you had visioned?  
Josh: Pretty much, With the team we had behind us it was just such a cohesive element to get out what we wanted.
CROOKED X "ROCK N ROLL DREAM" MUSIC VIDEO:
Stoli: You all came out of Oklahoma. What is it about Coweta, OK that helped shape the band & sound today?
Josh: Well, its being encapsulated in a small town you know? Away from everyone and being influenced by anyone other than the music we grew up with. I think it had a big impact on our sound.
Stoli: You have been playing together for years now. What is the key to keeping the peace and creating amazing music together for so long?
Josh: We've known eachother for so long now… I think over all its the friendship we all keep and mutual repect for one another that keeps us going.
Stoli: What is the biggest difference now that you have your major label debut album out than before?
Josh: Well walking through the malls is more intresting now. When your face is out there you cant really hide anymore but it is pretty cool.
Stoli: You have opened for rock legends like KISS & Ted Nugent. What did you learn from being involved with those icons?
Josh: Really just how to plan for the long term. Those guys like you said are legends and have been around a long time. To get adive from active musicians, the do's and dont's is invaluable.
Stoli: You are now on Disturbed's "Music As A Weapon IV Tour." How is that going & what does it feel like to play in front of thousands of music lovers for three months?
Josh: Man its great, it's a diverse crowd and to get out there and mix it up and share our music from state to state is amazing.
Stoli: Do you play the same set every night or do you like to keep it different & switch it up?
Josh: We switch it up quite a bit. It's tough when you want to play everything you have…. you know? But we keep it fresh by changing up the set and seeing the reaction to the songs from state to state.
Stoli: Can you describe how it feels to play music for so long under the radar and then see your labor take off?
Josh: Well it's like hitting the lottery really. I mean you buy that ticket and hope and hope… one day our numbers came up. At times I sit and think about it and it still blows my mind.
Stoli: The country is in big trouble right now for various reasons. But, the music scene is thriving online & off. Why do you think that is?
Josh: I think that in troubled times of any kind people like to escape. Even if it's just for a few minutes through a song, people find a way to make it through another day hoping the next one is a little brighter. I know i slip away on my ipod when im going through things and to know that through our music, someone may have us playing on their radio and using it as an esacpe is humbling.
Stoli: Where can readers get more Crooked X and whats coming up that we can get ready for?
Josh: The best place to find out what's up with us is our web site www.crookedx.com. It is constintly upgraded with all our shows. You can also dial (918)948-7187, our say now line. We leave messages telling our fans where we are, what we are doing and where we are going.