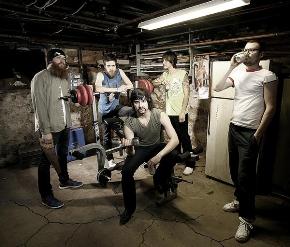 The darkly funny and imaginative new video for Man Man's second single and title track off their new album Rabbit Habits premiered Tuesday on celebrated humor site Funny or Die.
[youtube fHuUpA6YUwA&fmt=22 nolink]
You wouldn't expect a typical run of the mill stand on stage playing instruments spot from the defiantly unconventional honky-tonk vaudevillians and that's not what you're gonna get, not by a long shot. Instead they offer a fully realized comedic horror film complete with monsters run amuck, young lovers and graphic scenes of flesh eating. In place of self conscious musicians, you get the comedic talents of Fred Armisen from Saturday Night Live, Martin Starr from Superbad the dirty man beard contest guy in Knocked Up and Adventureland, and Charlyne Yi from Knocked Up and this summer's Paper Heart as well as a rising underground comedian and musician. There are also cameos from Anti label head Brett Gurewitz and a famed ice cream man. It's a testament to the inspiring power of Man Man's infectious cabaret sound that such talents would gladly converge for a frenetic two night shoot on the darkened streets of Los Angeles to create this weird and entertaining film.
Man Man on tour:
April 22, 2009 – The Square Room – Knoxville, TN
April 23, 2009 – The Rev Room – Little Rock, Arkansas
April 24, 2009 – Lounge on Elm St. – Dallas, Texas
April 25, 2009 – Norman Music Festival – Norman, Oklahoma
With Cursive:
April 26, 2009 – Mercy Lounge – Nashville, Tennessee
April 27, 2009 – Bottletree – Birmingham, Alabama
April 28, 2009 – Sluggo's – Pensacola, Florida
April 29, 2009 – Social – Orlando, Florida
April 30, 2009 – Social – Orlando, Florida
May 1, 2009 – Variety Playhouse – Atlanta, Georgia
May 2, 2009 – Cat's Cradle – Carrboro, North Carolina
May 3, 2009 – Black Cat – Washington DC, Washington DC
May 4, 2009 – State Theater – State College, Pennsylvania
May 5, 2009 – Diesel – Pittsburgh, Pennsylvania
May 6, 2009 – Magic Stick – Detroit, Michigan
With Gogol Bordello:
May 29, 2009 – Beaumont Club – Kansas City, MO
May 30, 2009 – Cabooze – Minneapolis, MN
May 31, 2009 – Congress Theatre – Chicago, IL
June 04, 2009 – Ram's Head Live – Baltimore, MD
June 05, 2009 – House Of Blues – Boston, MA