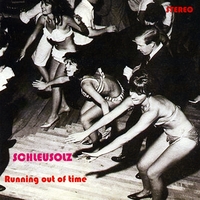 Wow!!!   This record is one wild ride and nothing like I've heard before.   Schleusolz is a duo from Franfurt, Germany–Worsel Strauss and Zodi Paulinen.   Running Out of Time is coined as Electronica/Showtunes/Lounge music, but in light of the Easter holiday I'd like to use the following reference:   Schleusolz's Running Out of Time is a basket full of colorful sounds.   Blue, green, orange, yellow, purple and pink colored eggs will fill your ear drums.
Just as Phil Spector introduced the "Wall of Sound", Strauss and Paulinen are bringing you the Hall of Sound Effects.   With the exception of three tracks, there are no signs of human voices.   Each number offers up a different mood with very creative arrangements.   The entire record to me is just so zany, wacky, quirky and fun yet so appealing.   This album will make you stop clear in your tracks and make you think to yourself, "What the hell did I just hear, holy cow!"
Here is just a taste of what you'll get from Schleusolz:   Peppy electronic music, romantic feel, trippy/outer-dimensional vibe, Middle Eastern mojo, sick-ass, futuristic beat distorted/warped voices, spacey/hypnotic craze, weird and wild Western theme, voice harmony, military march drum rolls and finally just pure Insanity.   One element I picked up on while listening to this record is that there is a strong link to video games.   The audio being created is so freakin' digitally enhanced and video game friendly, it's not even funny.   I can see myself playing a game tomorrow and hearing Strauss and Paulinen's music blaring in the background, without question.   The title track, "Running Out of Time", you actually do feel like you're running out of time just like in a game.   The association between sound effect and tempo is played upon here and that's why it makes for a perfect video game soundtrack.  
For more on Schleusolz and Running Out of Time, SKOPE out www.myspace.com/schleusolz.   While you're there, don't miss out on their hilarious Lego Land Video posted on YouTube.   They bring Lego people to life through their inventive music while creating a whole new scene.
By Jimmy Rae
[Rating: 2.5/5]