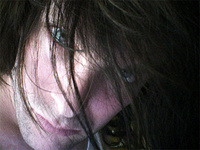 Oakland-based Singer/Songwriter/Producer, Bradley James Falconer is R00K and he brings you Sera.   The title is inspired by the song, "Que Sera, Sera (Whatever Will Be, Will Be)", written by Jay Livingston & Ray Evans and made famous by Doris Day back in the 50s.   The record offers 20 tracks all in the alt-rock, electro-pop category, but layered with an overly depressing cloud.   There are eight full-fledged songs and 12 numbers in the 25 second-2 minute range.   Falconer calls these shorter pieces "loops" or bursts of inspiration while the longer songs are more in depth and story-telling.  
Bradley actually worked as a psychotherapist for over five years prior to making this record–Go Figure!   Feeding off that experience of listening to peoples' backgrounds and histories, R00K is now putting that intellectual knowledge to the test–On paper.   Falconer's own professional experience is now the backbone of his song-writing abilities.  
I would phrase R00K's Sera as Depressinado, which to me means the element of depression is heavy, but sung with such compassion and quiet-sounding bravado. The sad and hurtful tone is heard loud and clear by the way Falconer paints the vivid picture.   The pain being portrayed by R00K is actually quite overwhelming and hard to swallow at times.   Topics of song choice include: the loss of Bradley's father due to suicide, his battle with coming out as gay–which he now proudly accepts and finally tackles the eating disorders of bulimia and anorexia on "Eat".   So, the overall play is extraordinarily depressing yet so excruciatingly heart-wrenching and touching to hear these issues.
You do get a glimpse of hope toward the end of Sera by way of a more uplifting and positive outlook on life ahead.   "Sail" is actually my favorite song on the album and ironically enough it is Falconer's gem as well.   The Emmylou Harris-inspired song proves to be Bradley Falconer's best vocal performance on the record, in my opinion.  
I have to add that on track 14, "Bastard", the bastard R00K is referring to is actually God.   I have to say that I was majorly offended and utterly disgusted by the reference. No matter what the context is behind the song, you should never use God's name in vain.   I took this as extremely disrespectful and honestly it was hard to stomach.
On Sera, R00K painted a visual picture of hurt through song/words and Falconer definitely has potential as a quality Singer/Songwriter.   Maybe the hopeful ending will lead into the next installment–who knows?   For more on R00K and the latest album, Sera, SKOPE out www.r00kmusic.com.
By Jimmy Rae
[Rating: 2/5]