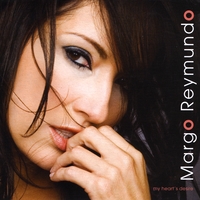 Born in Acapulco, raised in Dallas and currently residing in L.A., this singer/songwriter has come a long way with her sensational new hit record, My Heart's Desire.   Reymundo blends a variety of styles such as: jazz, pop, soul, bossa nova and cha-cha-cha.   With Margo's uniquely sensuous vocals, she is literally adding a whole other dimension to each song by way of her singing style.   Amazing aspect here is that the key instrument is actually Margo Reymundo and her "bringin'-sexy-back" voice.
The title track, "Organica", has a jazzy pop feel but more importantly it's the theme of her new album.   The music is so freshly original that it needed a new name to describe this new phenomenon and that is "Organica".   According to Reymundo and Rainmaker PR, "Organica is an unorthodox hybrid of pop music that is deeply rooted in jazz with thick, ethno-rhythmic grooves made by people, not machines, and textured with lush vocals, keys and ambient guitar arrangements."   The final product is an incredibly sultry vibe along with a real-to-the-core sound.   Reymundo sings with such passion and determination that can best be described as follows: Straight from the heart and sung with every last, organic fiber of her body–Powerful stuff!
The deep roots of "Organica" go beyond the music itself with the CD packaging being made from 100% recyclable materials.   Music that quenches the soul and helps the environment at the same time= winning combo.   The record includes 7 songs written and co-written by Margo, 3 covers and six catchy interludes.  
"Tell Me", cut #3 is extremely sultry and almost glamorous-sounding while song 10, "The Way Back" has a very peaceful ambience about it with worldly effects.   "Picture This", #7, I love the happy-go-lucky island feel combined with Reymundo's highly infectious singing.   "I Saw You" has a raw sound with funky back beats while the final full length track, "Couldn't Be More Wrong", displays a flair of pizzazz with voice, guitar and piano all shining through as one.   Then you throw in versions of Sting's "Wrapped Around Your Finger", made famous by The Police, "You Belong To Me" originally written by Pee Wee King, Redd Stewart and Chilton Price and end with Bill Withers' "Ain't No Sunshine".   The Margo Reymundo version of The Police classic is completely different with a mysterious tone and softly sensitive approach.   The latin flavor on "You Belong to Me" makes for a very sexy-cool rendition.   My favorite cover by a landslide is "Ain't No Sunshine" because of its emphatic spirit and sheer emotion while adding in a nice touch of electric guitar.   I love this version so much and maybe even more than the original; Bill Withers would be very proud!
This is one artist to watch out for–No Question!!!   Be on the lookout for Margo Reymundo and My Heart's Desire.   She has plenty more hearts to touch and souls to capture.  
By Jimmy Rae
[Rating: 4.5/5]