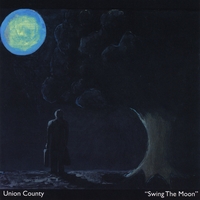 It only takes a glance at their tall-tale of a biography to realize that the men behind Union County are careful not to take themselves too seriously. However, a listen to their full-length Swing The Moon implies a serious commitment to their passion.
The acoustic duo of Alan Peterson and Steve Thompson bring to mind one facet–cohesion. If it's not their dual guitar interplay or harmonized vocals, it's that both men contribute to every track with a sense of mutuality. If Alan is holding vocal duties, Steve dives that much more into the complementary counterpart guitar role and vice versa. The equation is reminiscent of interdependent acoustic duos like Simon and Garfunkle or Jackopierce.
Though their live shows are acoustic, the addition of a backing band on Swing brings a depth to songs like "Waiting For." The piano accompaniment mingles with the upper range of Peterson's vocals and backing percussion lays a solid foundation for the acoustic strums. Album standout "Fresh On My Mind" is a ubiquitous UC song (often in set lists) and features the duo's songwriting prowess for emotive lyrics, harmonized vocals within the chorus while the demure guitar finger picking brings the whole track together. "Paris" is another track that benefits from the added hands of percussion and organ and again brings a sense of depth and multiple soundscapes. The approachable and relatable lyrics of "Paris" also secure a seat for the listener in the "living room" setting of the song.
Union County couldn't have chosen a better moniker for themselves, in that "union" is a mantra that is manifest in all areas throughout. The two have put together a musical outfit that is simply beyond the sum of the parts and Swing The Moon is testament to a musical philosophy that others would do well to adopt.  
Review by Chris West
[Rating: 3.5/5]