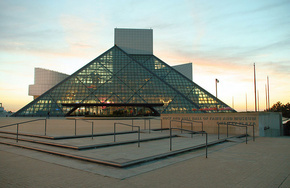 The Cleveland institution celebrated the return/homecoming of this year's induction ceremonies with a week of festivities including various activities featuring a free admission day (complete with a new "The Boss" exhibit) at the Rock Hall Of Fame + Museum, various concerts, and of course a Cleveland legacy, "The Moondog Coronation Ball".
The late Ahmet Ertegun explained the reason for New York hosting the proceedings as being mainly an issue of proximity/expense.   New York is where the record people are located.   A lot of time has passed since the original concert for the Rock Hall at the now defunct Cleveland Stadium, the Rock Hall's opening in 1995, and the first Cleveland induction ceremony in 1997.   The inductions were broadcast live on Fuse TV, and are slated to make a repeat performance every three years.   Held in the same venue that has hosted The Beatles, The Rolling Stones, and The Jackson 5 among others, this is the first time ever that the event was open to some 4,000 of the adoring public.   The city was ready for this event, and gets big props for both security and traffic control.   Props also go to Rock Hall CEO Terry Stewart, who started organizing the fund raising, corporate partnerships, event planning, and logistics over two years ago. The weather even cooperated with the Induction day ceremonies, with weather conditions being sunny and mild (dropped conveniently in between gloomy days scattered with rain and snow)!  
This years inductees were Metallica (inducted by Flea), Jeff Beck (inducted by Jimmy Page), Clevelander Bobby Womack (inducted by Ronnie Wood), Little Anthony and The Imperials (inducted by Smokey Robinson), and Run-D.M.C (inducted by Eminem).   Wanda Jackson, the first female rockabilly performer was inducted in the Early Influence category by Roseanne Cash.   Famed Memphis sidemen (the late) bassist Bill Black, drummer D.J. Fontana, and keyboardist Spooner Oldham (also a Muscle Shoals sideman) were also inducted, naturally in the Sideman category.  
Arrivals on the Red Carpet (and through the back door) included Sam Moore, Max Weinberg, Bruce Kapler, Will Lee, Anton Fig, Gary Tallent, Bootsy Collins in splendid attire (I've never missed him anywhere in the years I've know him), Al Jardine, Russell Simmons, boxer Kelly Pavlik, The Calloway Brothers, Scott Ian and Charlie Benante, Mayor Frank Jackson, Congressman Dennis Kucinich, comedian Bobby Slayton, and Cleveland Iron Chef Michael Symon.
Flea (seen earlier strolling with blue hair and his bass ala red gig bag down the Red Carpet), reminisced about original Metallica bassist the late Cliff Burton as being a major influence on his playing.   They may be the first band inducted with three inducted bass players.   Eminem paid couture reverence by appearing in black leather and black fedora, to extol the virtues of three guys with nothing but "Two turntables and a microphone" creating a genre called rap/hip-hop, in presenting Run DMC's award.   The late Jam-Master Jay Mizell's mother accepted on his behalf.   Darryl McDaniels (DMC, who was a foster child) did a great speech on the virtues of being a foster parent.   Roseanne Cash explained the importance of Wanda Jackson's paving the way for female performers like herself, with the transition from Country Western, to the format that became known as Rockabilly.  
The inductees all performed (in some capacity), backed by some of the presenters, and the CBS Orchestra, led by Paul Shaffer.   Of course there were a good share of performance highlights.  
Metallica rocked out their trademark hits, Master Of Puppets, and Enter Sandman, using both of the inducted bassists, Jason Newsted, and Robert Trujillo.  
Jeff Beck chalked up his hands, blew the dust to the audience (Lebron James style) and launched into Beck's Bolero.   The song was written by Beck (Jimmy Page arranged it and also claimed rights to writing it), and first recorded in 1967 along with Jimmy, John Paul Jones, Keith Moon, and Nicky Hopkins.   After a pause, he then introduced Jimmy Page as "Ladies and Gentlemen, a big chunk of Led Zeppelin right here, Jimmy, PAGE!"   The duo continued on, getting down to business starting with the chords from the Zeppelin classic Immigrant Song.   Reportedly, Jimmy used the same guitar he played on the original recording of Beck's Bolero, which was a road-worn sunburst 60's Fender solid body 12 string.    
Ron Wood introduced a classic version of It's All Over Now with writer (and Sam Cooke guitarist) Bobby Womack, as "He's been a great inspiration to my band.   His voice is going to kill you tonight, as it's always killed me!
The Train Kept A Rollin' jam was unique, as it featured Beck (who had played it with The Yardbirds), Page, (who had played it live with Led Zeppelin), and Joe Perry, who of course had success with it in Aerosmith.   Flea and Metallica joined the fray featuring James Hetfield on vocals.   James introduced the jam, as "This is rythym guitar player heaven.   I don't have to compete with this, I just do this!" as he hit a chord.
A good time was had by all.   Why wait three years, Cleveland has shown that they're ready to do it again next year.   And best of all, the performers, inductees, and the public in attendance unanimously agree!  
 
Photos & Words By R.M. Engelman