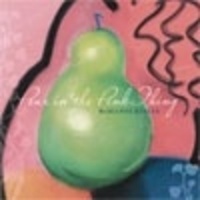 This Acoustic Singer/Songwriter has been going strong since the '90s and now offers the re-release of her sixth record titled, Pear in the Pink Thing.   Strong is the key word here especially for Kesler who had to undergo treatment for her condition known as cervical spondylosis.   Pure determination and will power pour out of Kesler and in turn relish into poetic notes.   Her ailment sidelined her for many months, but now she is ready to fight and prove to herself and her fans who she is as an artist.   Through the words and sounds Marianne Kesler creates, let the battle begin.  
The album comes across as being overly personal and stripped down to the core, leaving Kesler alone to bear her soul through song.   The style is definitely of an acoustic quality, but mixed with folk-like tendencies and a splash of lite, savvy rock.   Marianne Kesler contributes to lead vocals, background vocals and acoustic guitar while J. Benjamin Kesler adds to the mix more acoustic guitar, electric guitar, bass, piano, Wurlitzer, keys, banjo, drum loops and programming, percussion and background vocals on "Big Love".   The two artists have made pleasurably subtle music for the listening ears.
The title of the record, Pear in the Pink Thing happens to be a literal meaning according to M. Kesler.   When she was traveling by car with her road guitarist she ate one pair.   She wanted to save the other one, so she saved it from bruising by covering it with a pink glass in the car's cup holder.   Literal as they come, but it now holds a special place for Kesler and her fans via her website www.pearinthepinkthing.com: "Sometimes being an artist is a lonely place to live.   We feel things so deeply and have an almost driven need to express ourselves.   We may or may not be understood.   Be it so, we were made for such as this.   Sometimes it feels like being the pear in the pink thing."   Amazing that an idea so simple and literal could in turn be so abstract and meaningful.   This is what M. Kesler does through her music, to take every ounce out of every simple idea and turn it into something distinctly memorable.   This is the sheer potency behind her musical abilities–The Poetic Side.  
Kesler also tackles two songs by Neil Young that she holds dear to her heart, "Ohio" and "The Needle & The Damage Done".   The approach was very soft-spoken with fruitful harmonizing.   Anybody for a Pear in the Pink Thing?   I would recommend at least taking a bite for yourself.
For more on Marianne Kesler and her poetic album, SKOPE out www.pearinthepinkthing.com.  
By Jimmy Rae
[Rating: 3/5]