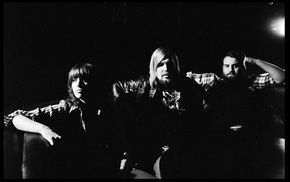 Southampton, UK trio, Band of Skulls will release their debut album Baby Darling Doll Face Honey on Shangri-La Music on April 7th.
This breakthrough album will be available exclusively on Itunes for two weeks starting on April 7th when music fans around the world will get the first taste of the band's driving guitar force, heartbreaking duets and sun-kissed, Wall of Sound harmonies. On April 21, Baby Darling Doll Face Honey will be available digitally at all DSPs and as a CD with a special bonus track from the band's website www.bandofskulls.com.
Also available will be a limited edition picture disc vinyl version of the album with artwork by Band of Skulls' Emma Richardson (Bass & vocals), who is an established artist in the UK. The band has used Emma's recent paintings from her exhibition, 'Meat Me At The Butchers' as part of the artwork design for two different covers for both the digital and CD versions of the album.
Band of Skulls – I Know What I Am – Rehearsal footage