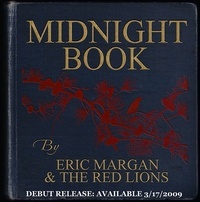 The New York-based group of five is blending classical, rock and even jazz melodies to bring you a freshly insightful work called Midnight Book.   The record reads as a book, as it displays innermost feelings and raw emotions of singer, songwriter and multi-instrumentalist, Eric Margan.   Margan offers a background in classical training along with a passion for classical and Beatles music.   The final result is Chamber Pop/Rock Mania for the computer age.
The current band line-up consists of lead singer/guitarist–Eric Margan, Jim Bertini on drums, Vince Chiarito on bass, Zachary Seman on keys and Johanna Warren on guitar, flute and vocals.   These five musicians bring a sound that is so different yet so refreshing.   The music is quite sophisticated with a sense of well-thought out lyrics and arrangements that capture the listeners' imaginations.   Inventive with a diverse array of musical elements can best describe Eric Margan & The Red Lions.
Feeling the music for one self is not enough for Margan and his Red Lions, they want the audience to experience everything for themselves.   Margan feels that the moment you connect with your listeners is pure magic.   The goal is for Midnight Book to touch people on an emotional level just like it does for Margan and his group.  
On the opening track, "Ocean Blue", invites you into the water where two past lovers meet again.   "I was walking on the bottom of ocean blue where we met" is so philosophical because the line stresses that happiness is conquered not at the top, but at the bottom of a deep, blue ocean.   "Bay of Naples" is the next installment with a slowed-down tempo and extremely low-key approach.   Jazzy sensations on song 3 and then carnival-like melodies on track 4.   We get a little darker on track 7 and then turn around and speed things right up on cut 9 with a faster, livelier feel of joyous times.   The ironic twist on #9, "The Blues will have to do" is that the spirit of the song is happy-sounding, which is not typically associated with the Blues.   I was thrilled to hear the melody from The Beatles' "I Want You (She's So Heavy)" during sections of "Midnight Book" because I'm also a huge Beatles fan and that song comes from one of their best albums in my mind, Abbey Road.  
My only suggestion would be that maybe speed the tempo up a tad because it was a bit draggy at times for me.   I understand if the mood called for a dragged out melody, but would have been even more gratifying to me if I heard a little more zest at times.   Overall though, Eric Margan & The Red Lions seem to have a unique quality of sound to offer the public.   For more info, SKOPE out www.ericmargan.com.
By Jimmy Rae
[Rating: 3/5]