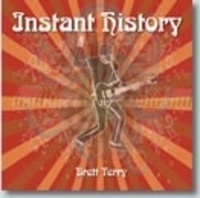 The fact that Brett Terry is making instant history with this record can be up for debate, but one thing is for certain:   Instant History has major potential with probable success to follow.   Singer/songwriter, Brett Terry, offers up a classic, 70's rock sound jived with folk and well-harmonized vocals.   To really enforce this distinct sound, Terry incorporates retrofied sounds by blowing the dust off the: Hammond Organ, Fender Rhodes and other "vintage vibe" filled instruments.   All I have to say is, Far Out Man!!
Terry grew up a big Beatles fan, so it makes sense that he would get by with a little "HELP" from a well-known producer named Eric Lichter.   Lichter plays all the electric guitar parts and drums while Brett and Eric both share the load on keys and bass.   The combo between the two musicians= a "Magical Mystery Tour" of 70's folk-rock explosion.   The two men bring this vintage sound back to life through an eclectic set of songs.
The record starts up with "On Alexander Street", which has cool-to-the-bone guitar riffs mixed with pleasing-to-the-ear vocals.   The two artists came together on that track and seriously worked it out.   "Peace of Mind" is exactly just that–Peaceful tone that gives you an easy-going feeling.   The super group, The Eagles, said it best on their classic song, "Peaceful Easy Feeling".   Now Brett Terry and company are bringing that Peace and Love sound back to the forefront.   Track 4, "Baby", displays such soft and tender moments with lovely harmonies.   The title of the song really matches the overall feel: Soft to the core just like that of an innocent and sweet baby.   I love "Rock Star" because it not only rocks but harmonizes tremendously also.   Rock Harmony can best describe the song–In tune and In charge.   The record ends with "Slow Moving Train", but don't let the title fool you because this train is chugging full speed ahead!   I would say one hell of an Encore with one terrific-sounding song by just two artists.   Brett Terry and Eric Lichter bring you Instant History–It's a Rap! So Call out the Music Listeners because there's "Something in the Air".  
For more on Brett Terry and Instant History, SKOPE out www.brettsongs.com.
By Jimmy Rae
[Rating: 3.5/5]