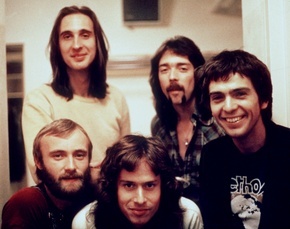 After upgrading the Genesis catalog of studio albums with a trio of comprehensive boxed sets, Rhino brings the band's early years back to their LP origins with GENESIS 1970-1975, a vinyl boxed set that contains five albums with lead singer Peter Gabriel. Genesis 1970 — 1975 ( 6 LP Vinyl Box) streets April 14.
Each Genesis vinyl album contains new stereo mixes done by Nick Davis. They are presented in heavyweight gatefold sleeves that feature the original covers, faithfully reproduced from their original sources. All of the albums are collected in a protective slipcase.
The GENESIS 1970-1975 vinyl boxed set spotlights five albums — TRESPASS, NURSERY CRYME, FOXTROT, SELLING ENGLAND BY THE POUND and the double LP set, THE LAMB LIES DOWN ON BROADWAY.
Listening Party Link:
Listening Party Tracklist:
1.   Happy The Man
2.   Resignation
3.   The Knife
4.   Harold The Barrel
5.   The Musical Box
6.   Get 'Em Out By Friday
7.   I Know What I Like (In Your Wardrobe)
8.   The Cinema Show
9.   Counting Out Time
10. Carpet Crawlers